Archaeological Projects
ISAW has four active faculty-led excavation sites and numerous other research projects that can offer vital experience to interested students. Below are the archaeological projects, currently based in Uzbekistan, Egypt, Turkey, and China,  spanning periods from the second millennium BCE to the early Medieval period.
The Oasis Wall Around Bukhara, Uzbekistan
Prof. Sören Stark
Territorial barrier-walls are a widespread phenomenon in many micro-regions of Western Central Asia where they often take the shape of large-scale oasis walls. One of the best-preserved examples of such a 'long wall', associated with a multitude of fortresses, forts and watch-towers, can be found around the oasis of Bukhara, one of Central Asia's major urban centers. This project investigates these features by combining archaeological survey work with stationary excavations, and is carried out in cooperation with the Institute of Archaeology at the Academy of Sciences of Uzbekistan in Samarkand. See here for more information about our on-going research in the Bukhara region.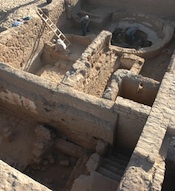 NYU's excavations at the ancient city of Amheida (known as Trimithis in the Roman period) are a modern, multidisciplinary excavation by an international team of a large urban site with remains from the Old Kingdom to the late Roman period. Finds include the only known ancient school, mythological wall paintings, and the only standing mud-brick pyramid of the Roman period. http://www.amheida.org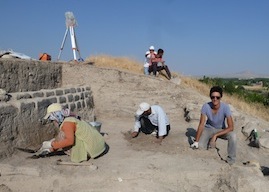 A joint Italian-American team is excavating at Kınık Höyük, a pre-classical, intact site in southern Cappadocia, Turkey. This wealthy region once controlled the main passage through the Taurus mountains of the route connecting Europe and Asia. Finds indicate that the main occupation periods are Neo-Hittite, Achaemenid, and Hellenistic, but the presence of earlier occupations was all evident through the study of surface material. The state of preservation of the Iron Age architecture excavated on the mound is unique in the region, so that restoration in addition to excavation is a main activity at Kınık, with the goal of opening an open-air museum. www.kinikhoyuk.org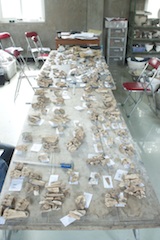 In 2002 and 2006 salvage work uncovered what may be the world's largest collection of zooarchaeological materials – over 50 metric tons of bone debris from precociously large bone workshop at Tiesanlu, Anyang, last capital of the Shang dynasty. ISAW professor Rod Campbell, in collaboration with personnel from the Institute of Archaeology of the Chinese Academy of Social Sciences, is conducting multi-disciplinary work on these remains.