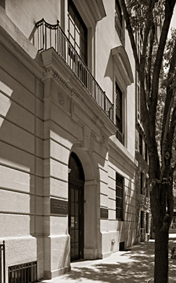 ISAW is a center for advanced scholarly research and graduate education, intended to cultivate comparative and connective investigations of the ancient old world from the Mediterranean to East Asia. It was founded by Shelby White and the Leon Levy Foundation in 2006.
ISAW's current exhibition, Measuring and Mapping Space: Geographic Knowledge in Greco-Roman Antiquity, explores the ways in which ancient Greek and Roman societies understood, perceived, and visualized both the known and the unknown areas of their world. It brings together more than forty objects, combining ancient artifacts with Medieval and Renaissance manuscripts and printed books that draw upon ancient geographic treatises. Together, they provide a fascinating overview of Greco-Roman theories of the shape and size of the Earth, ancient methods of surveying and measuring land, and the ways in which geography was used in Roman political propaganda. An interactive multimedia gallery and website showcase the use of modern technologies in studying ancient geography. The exhibition runs through January 5, 2014 and is open Tuesdays through Sundays, 11am - 6pm. Late hours on Fridays until 8pm.
current exhibition
Gregorio Dati, La Sfera

Folio 14 verso. Florence 1450 CE. The Morgan Library and Museum, MS M.721.
Upcoming Events
Richard Talbert (University of North Carolina, Chapel Hill)
:
Seating is limited and available on a first-come, first-served basis. Admission to this lecture closes 10 minutes after the scheduled start time. This lecture is sponsored by The Achelis Foundation.
...
6:00 PM
The Rubin Museum of Art and the Institute for the Study of the Ancient World are co-presenting special advance screenings of Saving Mes Aynak, a new documentary that follows archaeologists from around the world as they fight to save ...
7:00 PM
Latest News
The Seventh Annual Leon Levy Lecture was presented on Thursday, November 7 to a packed room of students, scholars, and the interested public. This marked the first year the annual lecture was supported by a generous endowment grant from The Peter Jay Sharp Foundation, and we were pleased to have the President of the Foundation, Norman L. Peck, in attendance, along with Peter Jay Sharp's sister, Mary Sharp Cronson and ISAW's founder, Shelby White. This year's speaker was Piotr Michalowski, the George G. Cameron Professor of Ancient Near Eastern Languages and Civilizations at the University of Michigan, Ann Arbor. Prof. Michalowski gave a wonderful talk on Historical Perspective on Sumerian Vistas, which criticized the use of the label 'Sumerians' to ancient Mesopotamians during the fourth and third millennia BCE. We thank all those who attended and look forward to seeing you again next year. The 2014 Leon Levy Lecture will be presented by Jessica Rawson, Professor of Chinese Art and Archaeology at the University of Oxford.
The proceedings of the ISAW conference Evil Spirits, Monsters and Benevolent Protectors: Demonology in Ancient Egypt and Mesopotamia, organized by visiting research scholar Rita Lucarelli in 2012, have now been published in Volume 14 (Issue 1, Sept. 2013) of Archiv für Religionsgeschichte. Information can be found at http://www.degruyter.com/view/j/afgs.2013.14.issue-1/issue-files/afgs.2013.14.issue-1.xml
Each year the Institute for the Study of the Ancient World, New York University, makes about 9 appointments of visiting research scholars. ISAW's scope embraces research and graduate education in the history, archaeology, and culture of the entire Old World from late prehistoric times to the eighth century AD, including Asia and Africa. Projects of a theoretical or comparative nature relevant to this domain are also welcome. Academic visitors at ISAW should be individuals of scholarly distinction or promise in any relevant field of ancient studies who will benefit from the stimulation of working in an environment with colleagues in other disciplines. Applicants with a history of interdisciplinary exchange are particularly welcome. Scholars are expected to be in residence at the Institute during the period for which they are appointed and to take part in the intellectual life of the community.