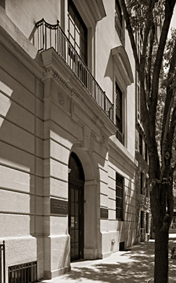 ISAW is a center for advanced scholarly research and graduate education, intended to cultivate comparative and connective investigations of the ancient old world from the Mediterranean to East Asia. It was founded by Shelby White and the Leon Levy Foundation in 2006.
Over five thousand years ago, an astonishing forward-thinking people lived in Malta, an island group in the Southern Mediterranean. Temple and Tomb examines their art, architecture and culture in the first exhibition ever to display Maltese prehistoric art in the U.S. Many of the objects have never before left Malta. The exhibition includes detailed and varied representations of the human figure, decorative architectural reliefs, refined clay vessels, imported stone amulets, as well as a series of historic watercolors, drawings and prints, all drawn from the collections of the National Museum of Archaeology and the Gozo Museum of Archaeology.
current exhibition
The Venus of Malta

Heritage Malta–National Museum of Archaeology: 21295 Courtesy of Heritage Malta, photography © Daniel Cilia
Upcoming Events
Registration is now closed, we have reached capacity for this event.
PROGRAM
1:00pm   WELCOME
Alexander Jones (Professor of the History of the Exact Sciences in Antiquity, Acting Director of the Institute for the ...
1:00 PM
Chester Higgins
:
Ancient Nubia: African Kingdoms on the Nile - edited by an outstanding team of Egyptologists led by Drs. Margaret Fisher, Peter Lacovara and Salima Ikram - is the most comprehensive work to date on this subject. At the suggestion of ...
6:00 PM
Latest News
ISAW is pleased to announce the research scholar roster for 2013-14. In addition to working on the listed research project, each scholar will participate in ISAW seminars and present a public lecture. Please join us in welcoming them to our community this fall!
The editors of the Journal of Inner Asian Art and Archaeology – Judith A. Lerner, Lilla Russell-Smith and Sören Stark – are happy to announce the publication of volume 5. Published under the aegis of ISAW the journal focuses on the archaeology and art and cultural exchanges within the vast area between the Iranian world, western China,  the Siberian steppes and Northwestern India. For the table of contents please visit the journal's webpage.
Marja Vierros, one of the ISAW's 2012-13 visiting research scholars, has announced two book publications this fall. The first, Bilingual Notaries in Hellenistic Egypt. A study of Greek as a second language, describes the language contact situation in Hellenistic Egypt in general and in Pathyris in particular through the analysis of contracts found in bilingual family archives dating to the second and first centuries BCE.