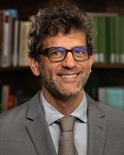 Lorenzo d'Alfonso
Professor of Western Asian Archaeology and History
Member, Visiting Scholar Search Committee, AY2023-24
Professor d'Alfonso earned his MA in Ancient Civilizations from the University of Pavia (1997) and his PhD in Ancient Anatolian and Aegean Studies from the University of Florence (2002). Since then he has worked as a post-doctoral fellow and adjunct professor at the Universities of Mainz, Konstanz, and Pavia.

His main research interests concern the social, juridical, and political history of Syria and Anatolia under the Hittite Empire and during its aftermath (16th-7th centuries BC). On these themes he has published a monograph on the judicial procedures of the Hittite administration in Syria (2005), a website of textual references (The Emar Online Database), more than 30 articles in volumes and journals, and co-edited two volumes.

From 2006 to 2009 he was the director of an archaeological survey in Southern Cappadocia, and since 2010 he has concentrated his efforts on the site of Kinik Höyük (Niğde, Turkey).
Professor d'Alfonso began offering seminars in the spring of 2012.