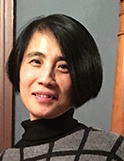 Lillian Lan-ying Tseng
Associate Professor of East Asian Art and Archaeology
Lillian Tseng specializes in Chinese art and archaeology. Prior to joining ISAW in 2010, she served as Associate Professor in the Department of the History of Art at Yale University. She received her B.A. and M.A. in History from National Taiwan University, and her Ph.D. in History of Art and Architecture from Harvard University. She was a recipient of a multi-year research grant from the Global Institute for Advanced Study at NYU, a visiting fellowship from University of Erlangen-Nuremberg in Germany, a post-doctoral fellowship from the Getty Foundation, a Morse Junior Faculty Fellowship from Yale, and two fellowships from the Chiang Ching-kuo Foundation for International Scholarly Exchange.
 Prof. Tseng is an art historian with interdisciplinary interests. The mediums she has investigated are diverse, including city planning, architecture, sculpture, painting, calligraphy, textile, and bronze objects. The timeframes of her publications cluster in early imperial China, later imperial China and the twentieth century. The issues she has explored concern not only art objects but also broader contexts in which they are situated, such as how artisans appropriated scientific knowledge for religious purposes, how memory facilitated the creation, circulation and reception of artifacts, how political intentions or situations stimulated the development of visual and material cultures, etc. She is the author of Picturing Heaven in Early China (Harvard University Press, 2011). She is currently at work two book projects: one looks into the reception of antiquity and its impact on visual production in 18th-century China, while the other examines frontiers and visual imaginations in Han China.
 Prof. Tseng is open to cross-cultural collaborations in teaching and research. To encourage students to think outside the box, she teamed up with colleagues from different fields for graduate seminars, such as "Cultural Interactions in Eurasian Art & Archaeology" (with Sören Stark in 2012) "The Art of Antiquity in the Metropolitan Museum of Art" (with Paul Zanker in 2013), and "Art, Archaeology, and Museology" (with Jason Sun in 2015 and Jennifer Chi in 2017). To advocate a global approach to the study of the past, she organized experimental workshops and conferences on a variety of topics, such as "Early Maritime Exchanges between the South China Sea and the Indian Ocean" (2017) and "The Reception of Antiquity: China & Europe" (2012).
 Prof. Tseng has been the director of a multi-year, collaborative research project on Art, Archaeology and the First Emperor: A Global Approach since 2015. Her initial thought was to encourage scholars from different fields to study the rich and fascinating archaeological discoveries related to the First Emperor of China (259-210 BCE) and see if any new and unexpected knowledge could be produced. She invited six art historians, whose expertise ranged from Greco-Roman art, Central Asian art to East Asian art, to form the core team. To deepen their contextualized understanding, she organized two workshops in China, one on-site in Xi'an to inspect landscape and objects in person and the other brainstorming in Shanghai to exchange ideas with local scholars. To explore methodological possibilities, she added three workshops in New York, discussing literature on comparative studies, the study of empires and the study of networks respectively. Prof. Tseng and her team showcased their research results and reach out to wider and larger audiences in a symposium at the Metropolitan Museum of Art in the spring of 2017, in conjunction with its special exhibition Age of Empires. She is now at the concluding stage of the project, editing a scholarly volume for publication.
 Recent Publications
"Decoration, Astrology, and Empire: Inscribed Silk from Niya in the Taklamakan Desert," in Silk: Trade and Exchange along the Silk Roads between Rome and China in Antiquity: The Silk Trade, ed. Berit Hildbrandt & Carole Gillis (Oxford: Oxbow Books, 2017), 82–94.  
"Princely Tombs in Han China: New Discoveries from Dayunshan and Nanchang," Orientations, vol. 48, no. 2 (2017), 103­–109.
"Popular Beliefs in the Qin and Han Dynasties," in Age of Empires: Art of the Qin and Han Dynasties, ed. Jason Sun (New York: The Metropolitan Museum of Art, 2017), 69–79.
"Absence and Presence: The Great Wall in Chinese Art," in The Rhetoric of Hiddenness in Traditional Chinese Culture, ed. Paula Varsano (Albany: State University of New York Press, 2016), 227–258.
"Monumentality and Transnationality: The Fascination with Gigantic Ding Bronze Vessels in Modern China," in Art History and Fetishism Abroad: Global Shiftings in Media and Methods, ed. Gabriele Genge and Angela Stercken (Bielefeld, Germany: transcript Verlag; New York: Columbia University Press, 2014), 289–302.
"Immortal Horses, Heavenly Horses, and Chariot Horses: Notes on the Decoration of the Mirrors in Han China," in The Medieval Transitions in the History of Art, ed. Shou-chien Shih (Taipei: Institute of History and Philology, Academia Sinica, 2014), 35–62.
"Funerary Spatiality: Wang Hui's Sarcophagus in Han China," Res: Journal of Anthropology and Aesthetics, no. 61/62 (2012), 116–131.
 Recent Presentations
"Art History with or without Borders," Distinguished Scholar Session, Annual Conference of Collage Art Association, Los Angeles, February 22, 2018.
"Transcending Death: Ontological Space in a Han Princely Tomb," Conference on Designing Space: The Exercise of the Spatial Imagination in Pre-modern China, University of Pittsburgh, May 26–27, 2017.
"Visualizing Battlefields: The Qin Terracotta Army Reconsidered," International symposium on The Age of Empires: Comparison and Interaction between East and West in Antiquity, The Metropolitan Museum of Art, New York, April 6–9, 2017.
"One Genealogy, Two Makers, and Many Replicates," International conference on China, Art, History: New Orientations, University of Chicago, November 3–5, 2016.
"The Illusion of Chance: The Liubo Game and Divination in Early China," Workshop on Destin, chance et jeux de hasard en Chine, Collège de France, Paris, May 20, 2014.