Admissions and Financial Aid
Admissions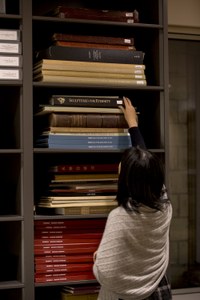 ©Kahn: Courtesy of NYU Photo Bureau ISAW admits approximately four doctoral students each year. Applicants should already have acquired a solid preparation sufficient for research in at least one of the disciplines or geographical areas represented in the Institute. This may be a Master's or its equivalent in a relevant subject; students with sufficiently strong preparation are also admitted directly from the B.A. Prospective students should also have mastered at least two foreign languages (at least one ancient and one modern) relevant to the student's program.
ISAW Application Deadlines:
December 18: Recommended
January 4: Final
Applications are accepted for fall only.
Applications must include the following documents. For applications questions and specifics on the requirements for each document, please visit the NYU GSAS Application Resource Center at https://gsas.nyu.edu/admissions/arc.html:
NYU GSAS Online Application (https://apply.gsas.nyu.edu/apply/)
CV or Resume
Statement of Academic Purpose
Writing Sample: A writing sample is required. It may be a term paper, excerpt from an undergraduate or graduate thesis, or other example of academic writing, including a lecture delivered at a meeting, or a published article. It should be double-spaced and not exceed 35 pages. Please be sure to save your writing sample as a PDF file to ensure that non-Roman scripts or other non-standard characters appear correctly in the file.
Three Letters of Recommendation
GRE: The GRE general test requirement is being waived for fall 2024. Please do not send us GRE test scores. If you do, the scores will not be reviewed or considered by the department's Admissions Committee. In subsequent terms, the general test may be required.
TOEFL/IELTS Test Score (for international applicants only): 

Applicants with a TOEFL below 106 or an IELTS below 7.5 may be admitted conditionally, with requirement of additional testing to be carried out by NYU.

Transcript
Languages: In addition to the relevant section of the application form, a separate list of all ancient and modern languages (other than English) in which the applicant has some proficiency is required and should be uploaded as a separate document on the Writing Sample(s) page of the online application. This list should indicate the applicant's level in each language in concrete terms (e.g., what are the most extensive or difficult texts that the applicant has read) and how the language was acquired.
Application Fee: $110
 

Financial Aid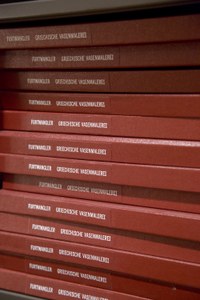 ©Kahn: Courtesy of NYU Photo Bureau Matriculated students in good standing receive five years of fellowship support as they progress successfully through the program and can apply for a sixth year of support. ISAW graduate fellowships cover the cost of tuition, fees, and health insurance premiums and provide an annual stipend, which is currently $43,969 for the 2021-22 academic year. Students are also eligible to apply for departmental funding for conferences, research, and fieldwork.
If you have more questions about the program, please see our Frequently Asked Questions page. For answers to questions not on that page, please email ISAW-Admissions@nyu.edu.