Course Descriptions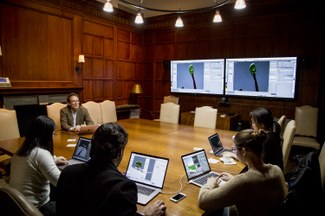 ©Kahn: Courtesy of NYU Photo Bureau To enroll in an ISAW course, you must first obtain the permission of the instructor. You may then forward the permission email to isaw.academic.affairs@nyu.edu to get the registration access code. All classes will be held in the 2nd-floor Seminar Room at ISAW unless indicated otherwise.
Fall 2023: Seminar on the Interconnected Ancient World
Cross-Cultural Perspectives on Death in the Ancient World (Mediterranean to China)
Daniel Potts and Antonis Kotsonas
dtp2@nyu.edu; ak7509@nyu.edu
ISAW-GA 3030-001
Tuesdays, 2:00-5:20pm
The burial of the deceased by the living is virtually universal amongst Anatomically Modern Humans. Nevertheless, as archaeologists are acutely aware, the forms that burials take vary widely across space and time, as do the actions and responses of the living who assume the responsibility of interring the corpse of a dead relative, friend or enemy. As such, the study of death and burial is an ideal topic for a cross-cultural investigation of a very basic feature of human behavior. In this seminar we will be engaging with a wide range of theoretical and methodological approaches to the recovery, sampling, and interpretation of human burials and the ethical issues which relate to design and practice of working with human remains. We will examine a culturally broad sample of case studies, taking account of both archaeological evidence and literary/epigraphic sources that display ancient attitudes towards the deceased.
Permission of the instructors is required.
Fall 2023: Research Seminars
The Archaeology of Ancient China – Technologies of Transformation
Roderick Campbell and Dongming Wu
rbc2@nyu.edu; dw1798@nyu.edu
ISAW-GA 3012-001
Thursdays, 8:40am-12:00pm
The archaeology of Holocene China is normally narrated as a developmental sequence progressing from the advent of agriculture to the rise of states marked by chronological divisions based on tool technologies. Though it could be argued that terms like "state", "agriculture", "Neolithic" and "Bronze Age" are merely useful heuristics, they also explicitly or implicitly entail problematic grand narratives. Tool age divisions are supposed to demarcate technological watersheds of wide impact, while agriculture and state formation are often seen as revolutions radically changing the shape of society, economy and politics. At the same time, it has been obvious for decades that plant and animal domestication was no revolution, nor was the development of food production systems uniform or spontaneous, but a complex, ongoing process spanning millennia. The same issues can be raised for "the state" – re-envisioned as socio-political complexity – rather than a single revolutionary moment there were instead numerous peaks and valleys, watersheds and transitions. Gordon V. Childe once hypothesized that bronze marked a radical transformation of technology, long-distance trade, and the organization of labor, paving the way for the rise of urbanism and states, but comparative archaeology has long demonstrated that urbanism and expansive, complex polities can exist without metal. If the concepts that anchor the narrative structures of ancient China can all be shown to be either problematic in themselves or not straightforwardly marking chronological divisions, perhaps it is time for a new approach? If food production, social complexity and craft production are all better thought of as processes than events, and all can, in an expansive sense be considered technologies, then a new approach might look for the historical peaks and valleys of a variety of key technologies, exploring their entanglements as well as their unique trajectories. Where were the moments of emergent technological disruption? What were their knock-on effects and unintended consequences? This seminar will explore the stories of three broad and three narrow technological streams in ancient China: polity form, economic organization, agricultural regimes, as well as ceramics, metallurgy and textiles.
Prerequisites: Background in Chinese archaeology and an ability to read Chinese ideal but not essential – more important are a sense of curiosity and a willingness to work
Permission of the instructors is required.
Advanced Study in Early Medieval Chinese Art and Archaeology
Lillian Tseng
lillian.tseng@nyu.edu
ISAW-GA 3012-002
Wednesdays, 2:00-5:20pm
This course is intended to provide intensive analyses of primary sources and related scholarship in early medieval Chinese art & archaeology for graduate students who have sufficient knowledge of the field.
Ability to read Classical Chinese and permission of the instructor are required.
Archaeologies of Landscape and Territoriality in the Late Bronze Age and Iron Age Mediterranean
Lorenzo d'Alfonso and Dominic Pollard
lda5@nyu.edu; dp3704@nyu.edu
ISAW-GA 3013-001
Wednesdays, 8:40am-12:00pm
One important contribution of the 'Mediterraneanizing' archaeological approaches of the last two decades has been to re-assert the importance of the relationships between human communities and the landscapes they inhabit. There is a particular emphasis on the impact and visibility of different identities within the same community and the definition of alternative forms of political interaction with space and landscape. Temporality and critical events add further elements of dynamism to a fine understanding of human – landscape interactions.
This seminar will critically examine a range of these relationships in the context of the Late Bronze Age and Iron Age in the Mediterranean region. The class will begin by introducing the physical and ecological setting of the Mediterranean Basin, and the kinds of physical landscapes – mountains, plains, coasts, rivers and seas – that characterise it, and which have formed important foci of human activity in antiquity. We will then examine historical developments in the archaeological study of ancient landscapes, and discuss different theoretical approaches to conceptualizing and analyzing human-landscape relationships in the past. This will lead to a consideration of the kinds of landscapes – physical, economic, political, and ritual – that intersect in the emergence of concepts of territoriality between and within groups. These ideas will be contextualised through case studies drawn from across the Mediterranean region, spanning the Late Bronze Age and Iron Age, during which time landscapes of human settlement, mobility, interaction, and scale of complexity underwent significant changes in many regions. Working over multiple scales, this seminar will tackle the concepts of landscape and territoriality from the level of individual communities, up to the cities, states, and empires which existed during this dynamic period of Mediterranean history.
Permission of the instructors is required.
Between Bronze and Iron Age: The 'Sine Sepulcro' Cultural Complex in Southern Central Asia (2nd half of the 2nd mill. BCE)
Sören Stark
ss5951@nyu.edu
ISAW-GA 3013-004
Mondays, 2:00-5:20pm
Large Conference Room, 6th Floor
The Final Bronze/Early Iron transition in southern Central Asia represents a protracted period of major cultural changes. Аt the end of the 3rd mill. BCE, southern Central Asia was home to the mature Oxus Civilization, with its major proto-urban centers and related towns and villages engaged in extensive prestige-oriented exchange networks with partners in Mesopotamia, southern Iran, and the Indus Valley. During the early 2nd mill. BCE this exchange system slowly dissolved, and the Oxus Civilization entered its final phase, with many of its proto-urban centers abandoned in favor of smaller sites, no new constructions of monumental buildings, and a sharp reduction in the number of symbolic items in stone and metal that required skilled craftsmanship. Yet, while the underlying production technologies and organization seem to have changed in the late Oxus period, there are typological and aesthetic continuities in certain ceramic, metal and stone artifacts that indicate a reorientation, rather than a full-scale collapse of the prevailing economic system. A major new role was played by partnerships for sourcing copper-tin ores within the realm of 'Andronovo' or 'steppe' pastoralist communities to the north of the late Oxus Civilization.
This trajectory of cultural change accelerated in the middle and late 2nd mill. BCE with the formation of a series of new cultures which stand at the beginning of a number of socio-political, ethnic, and religious processes and traditions that came to shape southern Central Asia for the next two millennia at least. Subsumed under the term "Painted Ware Cultures" or "Sine-Sepulcro Cultural Complex," these regional cultures have usually been perceived through their differences from the previous Oxus-Andronovo cultural system and have been attributed to modest, 'egalitarian,' and inward-looking communities of agro-pastoralists based on self-sustaining local economies with few long-distance exchanges. Yet, many of these assumptions are based on a limited data set, as the archaeological exploration of Final Bronze / Early Iron Age settlements has often been hampered by substantial superimposing later deposits as well as the near complete absence of graves and grave goods, giving this this particular period the air of a "dark age." All the more important are recent investigations (with the participation of an ISAW team) at the newly discovered site of Kimirekkum-1 in the southwestern Kyzylkum desert, which seem to indicate not only the large-scale production of metal and semi-precious stone objects but also the continuation of specialized long-distance exchanges together with notions of prestige and status long after the end of the Oxus Civilization, calling into question our current perception of "Bronze Age collapse" in proto-historic Central Asia as a wholesale end of 'international' trade and elite-centered governance arrangements.
Hence, fundamental questions remain as to what precipitated the slow disappearance of the Oxus Civilization and the subsequent formation of fundamentally new cultural complexes: Who laid the foundation for these new cultural developments? Were internal social dynamics the root cause, or did incursions by outsiders ("nomads") destabilize traditional socio-political regimes? How does broad regional similarity in ceramics fit alongside strong archaeological evidence for local cultural variations? How should we understand the appearance of new religious and funerary traditions? What impact did changes in regional climate have on local ecologies and resource networks? In our seminar we will address these and other questions by systematically revisiting older archaeological data as well as new approaches and data.
Requirements: Reading knowledge of Russian and French; permission of the instructor.
The Legal Agency of Divinity in the Ancient Near East
Beate Pongratz-Leisten and Daniel Fleming
bpl2@nyu.edu; daniel.fleming@nyu.edu
ISAW-GA 3018-001
Tuesdays, 8:40am-12:00pm
In the ancient Near East, the divine and human intersect in ways that can be interpreted as legal, that is, they uphold social and by extension cosmic order. The legal agency of the divine reflects this connection, as divine agency can be found in various text genres, ranging from ritual texts, prayers, and literature to the actual performance of law, as found in treaties, law codes, court procedures, and legal documents. Legal agency of the divine can also be observed in material evidence, as seals and sealings belonging to deities have been found. The presence of the divine in such evidence invokes divine authority and illuminates how the ancients perceived of their connection to the divine and vice versa. This course will investigate the various ways in which the divine engage with the "human" legal sphere through various ancient Near Eastern texts, including Hammurabi's Code and Esarhaddon's Succession Treaty. We will also analyze legal metaphors, such as the "divine courtroom" in prayer, ritual, and court procedures and will probe the ways in which deities act as participating parties through material and textual evidence relating to the performance of law. The course will also consider the narrativization of legal metaphors in literature from the ancient Near East and the Hebrew Bible. The aim of this course is to examine how legal agency of divinity reflects ancient West Asian worldviews concerning the divine-human relationship and cosmic order.
Permission of the instructors is required.
Text Analysis for Historical Language Research
Patrick Burns
patrick.j.burns@nyu.edu
ISAW-GA 3023-001
Mondays, 2:00-5:20pm
This course introduces students to computational research methods helpful for producing data-driven scholarship involving large collections of historical-language text. Drawing on relevant topics in exploratory data science, corpus linguistics, and natural language processing, the course provides a forum for students to develop hands-on skills in computer programming (using Python), focused primarily on managing textual data, string manipulation, text mining and analysis, language modeling, and data visualization. Special attention will be given to the use of word embeddings and transformer models and their applicability to historical-language text collections. Demonstrations throughout the course will draw primarily on English-language examples, but because of the philological range and diversity at ISAW, students are encouraged to work with digitized text collections in the languages most relevant to their research. There are no prerequisites, though students are expected to be open to reading, writing, and editing computer programs; students are required to bring notebook computers to class. Note that historical-language text for the purpose of this course covers texts or collections of texts written before the Early Modern period.
Permission of the instructor is required.
Introduction to Digital Humanities for the Ancient World
Sebastian Heath, Tom Elliott, and David Ratzan
sh1933@nyu.edu; tom.elliott@nyu.edu; david.ratzan@nyu.edu
ISAW-GA 3024-001
Thursdays, 2:00-5:20pm
This course will introduce students to the use of digital tools and computational methods in the study of the ancient world. There are no technical prerequisites and the course will be of particular interest to early-stage graduate students who want a broad introduction that involves hands-on work. The course will progress through topics and methods such as applying structure to text via XML-based markup languages, introduction to the programmatic manipulation of textual data, and how scholarly resources are shared on the public internet and edited in collaborative environments. There will also be a focus on structured datasets. Students will gain practical experience in acquiring, creating, querying, and displaying spatial data, digital images, and 3D models. The course also addresses the growing role of so-called "generative AI" and related tools. There will be frequent introductions to existing digitally-informed work in disciplines that are part of the study of the ancient world, such as textual studies, history, and archaeology, as well as more specific fields such as epigraphy, papyrology, and numismatics for which exemplary digital projects exist. Readings will introduce students to current trends, theories, and ethics in Digital Humanities and will encourage discussion of the impact that digital methods and open-licensed content are having on research, teaching, and public engagement with scholarly practice. Over the course of the semester students will design and then implement a final project that can overlap with their existing research interests. It is a requirement that students bring their own notebook computers to class.
Permission of the instructors is required.
Fall 2023: Other Courses
Intro to Ancient Egyptian I
Marc J. LeBlanc
marc.leblanc@nyu.edu
ISAW-GA 1000-001 (cross-listed as FINH-GA 2520-002)
Fridays, 2:00-5:20pm
 This course, the first in a two-semester sequence, will introduce students to the Middle Egyptian (Classical) dialect of the ancient Egyptian language. Students will become familiar with the hieroglyphic writing system, as well as key elements of the grammar and vocabulary of Middle Egyptian.
There are no prerequisites, but previous study of foreign languages and a strong general understanding of grammar are recommended.
Permission of the instructor is required.
Advanced Akkadian: Ritual Texts
Beate Pongratz-Leisten
bpl2@nyu.edu
ISAW-GA 3018-002
Thursdays, 10:00am-1:20pm
Large Conference Room, 6th Floor
Permission of the instructor is required.
Spring 2024: Seminar on the Interconnected Ancient World
Interconnectivity in the Ancient World: Issues, Topics, Approaches
Beate Pongratz-Leisten and Daniel Potts
bpl2@nyu.edu; dtp2@nyu.edu
ISAW-GA 3030-001
Tuesdays, 2:00-5:20pm
In the ancient world, the interconnectivity of polities or states occurred on many planes and in a variety of social fields: trade, extraction of resources, diplomatic engagement, military encounters, vassaldom, exchange of gifts, as well as the transfer of knowledge and expertise in many domains of cultural production. Very often, the royal courts can be seen as the motor behind these various kinds of cultural encounters. As the intensity of cultural contact and the social fields in which these encounters occurred always differed, it would be wrong to extrapolate from one type of cultural interaction to the others. Ancient studies abound in attempts to categorize intercultural contact, as we can see in approaches including network theory and world system theory, as well as in recent work on globalization, the notion of entanglement and histoire croisée, cultural transfer and transmission, and translation studies. Not all of these theories are suited to address adequately these varieties of cultural interaction mentioned above, and many have focused primarily on economic rather than cultural interconnectivity. In combining textual and archaeological evidence, this course will investigate a number of case studies to probe the adequacy of modern approaches while aiming at defining in more nuanced ways the historical context and agency relevant to particular cultural encounters.
Permission of the instructors is required.
Spring 2024: Research Seminars
Observation and Experiment in Ancient Physical Science
Alexander Jones
aj60@nyu.edu
ISAW-GA 3002-001
Mondays, 2:00-5:20pm 
This seminar explores the empirical elements in ancient scientific traditions that aimed at systematic description, explanation, or prediction of physical phenomena. Scientific practices of the Ancient Near East and the Greco-Roman world will figure prominently, but those of other civilizations may be investigated according to the interests and competences of participants. The evidence is largely textual; knowledge of at least one ancient language in which relevant scientific texts exist is required. Participants will choose topics, select study materials, and guide discussion for at least one session.
An initial selection of topics will include the following: the rise of systematic observation of spontaneously occurring phenomena in the context of interpretation of the phenomena as ominous signs; practices of recording and transmitting observations of astral, meteorological, and mundane events; precision, accuracy, and instruments of measurement, especially in astronomical observation records; experiment and experimental apparatus in Greek harmonic theory; empirical claims within deductive scientific texts, e.g. in optics, mechanics, and astronomy; empirical argument in Ptolemy's Optics; adjustment and fabrication of reported observations and measurements.
Permission of the instructor is required.
Writing History … Experimentally
Roderick Campbell
rbc2@nyu.edu
ISAW-GA 3012-001
Fridays, 8:40am-12:00pm
Historians, anthropologists and archaeologists all communicate through writing. We re-construct, imagine, present, narrate, tell stories, but seldom do we reflect seriously on this process. Even less do we actively play in the creative field that is manifestly the ground of all writing, historical or otherwise. Nor is taking writing seriously (or joyously!) merely about the aesthetics of good form or the craft of persuasive rhetoric but rather the very structuring, embodying, even worlding of thought. What then might history, anthropology or archaeology look like if we reconfigured the parameters of its constitution? This seminar will explore the craft of historical writing including its experimental borders with multi-scalar narratives, counter-factuals, fictioning, narration/anti-narration and even speculative fiction.
Permission of the instructor is required.
Scientific Methods in Archaeology
Federico Carò
Federico.Caro@metmuseum.org
ISAW-GA 3012-002
Thursdays, 8:40am-12:00pm
This course explores the application of scientific methodologies to the investigation of archaeological objects and works of art, with a specific focus on inorganic materials. This introductory course aims at providing the students with the appropriate knowledge and tools to understand advantages and limitations of traditional and cutting-edge analytical techniques commonly available to archaeologists, and to implement them into successful interdisciplinary archaeological research. Students will be introduced to the science of most common archaeological materials and will examine how scientific analysis can help characterizing them, disclosing manufacturing processes and techniques, and reconstructing raw material procurement and trade.
The goal of this course is to give each student the knowledge necessary to understand, for each technique, its primary area of application, its strengths and weaknesses, and finally, how to couple complementary scientific techniques to tackle specific archaeological problems.
Upon completion of the course, students will have gained a basic knowledge of the techniques presented and will be able to discuss and design an analytical protocol around an archaeological question of their choice. Students will be involved in lectures, classroom discussions, hands-on exercises and analytical projects that will take advantage of the equipment and materials in the department of Scientific Research of the Metropolitan Museum of Art, while certain portable analytical instruments will be made available at ISAW.
Permission of the instructor is required.
Early Greek Medicine
Claire Bubb
cc148@nyu.edu
ISAW-GA 3012-003
Thursdays, 2:00-5:20pm
This course will investigate Greek medicine of the 5th and early 4th centuries BCE. The majority of the evidence for medical thought in this period stems from the Hippocratic Corpus, which comprises medical texts from a collection of authors with diverse viewpoints. Generally considered, both in antiquity and by modern scholars, to be the heart of Greek academic medicine, the corpus has exerted an enormous influence on the development of western medical thought (and beyond). Scholarship is also increasingly attuned to connections between these texts and contemporary literature and philosophy. We will consider every text traditionally considered to be part of the corpus (reading most in their entirety) and trace the themes and differences to be found among them. Although these texts dominate the historical record, they are not a complete picture of Greek medicine in this period. Accordingly, we will also consider other voices that can be recovered, including through the Anonymous London Papyrus and the fragments of Diocles. Further, these textual sources, whether eventually codified into the Hippocratic Corpus or not, were operating in the context of an explosion of interest in religious healing. We will therefore round out the class with a consideration of the Cult of Asclepius, including the robust corpus of inscriptions celebrating miracle cures.
Permission of the instructor is required; ability to read Ancient Greek is recommended.
Agriculture in the Ancient Near East: From the Neolithic to the 'Islamic Green Revolution'
Lorenzo Castellano
lc2995@nyu.edu
ISAW-GA 3013-001
Wednesdays, 8:40am-12:00pm
The history of agriculture is a history of persistence and innovation. Structural aspects of agropastoral economies are often embedded at the very core of the longue durée. Nevertheless, farming systems are also prone to changes and transformations, either resulting from long-term gradual trends or abrupt 'revolutions'.
This seminar-based course introduces to the history of agriculture in the Ancient Near East, understood in its historical and environmental complexity, across both space and time. The course is diachronically organized around a series of topical questions, chronologically extending from the Neolithic to the Islamic period. Among other topics, we will discuss the onset of the first agricultural communities in western Asia, the role of agricultural production in the emergence of early complex societies, the impact of climatic and environment change on farming systems, and the broader changes in the agricultural landscape throughout the Iron Age, Roman, and Late Antique periods.
Permission of the instructor is required.
Early Chinese Excavated Manuscripts in Context
Ethan Harkness
harkness@nyu.edu
ISAW-GA 3013-003
Mondays, 8:40am-12:00pm 
This seminar will explore important discoveries of early Chinese manuscripts dating from the late Warring States period (475-221 BCE) to the early Eastern Han Dynasty (25-220 CE). Philological analysis based on close readings of select texts will be complemented, insofar as possible, by consideration of historical and archaeological context to uncover nuance within and connections between the texts. In practice, we will examine the nature of "tomb libraries," relations between manuscripts and the other material objects found in tombs, connections between separate assemblages of excavated manuscripts, connections between excavated and transmitted texts, and problems with manuscripts of non-standard or unknown provenance. Every effort will be made to present the initial meetings of this course in a way that is accessible to students with an interest in early manuscripts but little or no background in Chinese studies, and auditors are welcome to attend those sessions. Classical Chinese reading skills are a prerequisite for formal enrollment.
Permission of the instructor is required.
The History and Archeology of Chinese Divination
Zhao Lu
lz69@nyu.edu
ISAW-GA 3013-004
Wednesdays, 8:40am-12:00pm
Large Conference Room, 6th Floor
This course explores the archeological findings and history of divination in China from the 4th century BCE to 10th century CE. We will examine the subject matter from three perspectives: the material culture of the divination manuals, the technological details and traditions behind them, and the socio-intellectual context of the time. We will ask questions like: What led people to seek out divination? How did divination work and what technology went into it? What made a satisfactory answer? The class will move chronologically so that we have a clear understanding of the development of divination. Further, in-class discussions will also incorporate relevant discourse in the study of material culture, religious studies, science and technology studies, and studies of divination outside China. Although case studies in this course are mainly focused on China, we will also have in-depth discussions on divination in a trans-regional context. Students are encouraged to write the final research paper from a trans-regional or comparative perspective.
Reading Classical Chinese is recommended but not required.
Permission of the instructor is required.
Generating Antiquity: Artificial Intelligence for the Ancient World
Sebastian Heath and Patrick Burns
sebastian.heath@nyu.edu; patrick.j.burns@nyu.edu
ISAW-GA 3023-001
Wednesdays, 2:00-5:20pm
Permission of the instructor is required.
Spring 2024: Other Courses
Intro Ancient Egyptian II
Niv Allon
Niv.Allon@metmuseum.org
ISAW-GA 1001-001
Fridays, 2:00-5:20pm
This course, the second in a two-semester sequence, will introduce students to the Middle Egyptian (Classical) dialect of the ancient Egyptian language. Students will become familiar with the hieroglyphic writing system, as well as key elements of the grammar and vocabulary of Middle Egyptian.
Prerequisite: ISAW-GA 1000-001, "Intro to Ancient Egyptian I" (or equivalent coursework).
Permission of the instructor is required.
Advanced Akkadian: Oracles and Literary Prophecies
Beate Pongratz-Leisten
bpl2@nyu.edu
ISAW-GA 3018-001
Thursdays, 10:00am-1:20pm
Large Conference Room, 6th Floor
Permission of the instructor is required.