Course Descriptions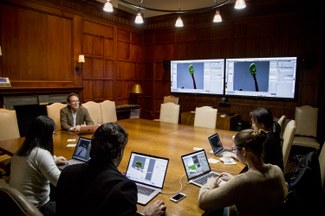 ©Kahn: Courtesy of NYU Photo Bureau To enroll in an ISAW course, you must first obtain the permission of the instructor. You may then forward the permission email to marc.leblanc@nyu.edu to get the registration access code. All classes are held in the 2nd-floor Seminar Room unless indicated otherwise.
Spring 2019: Seminar on the Interconnected Ancient World: Themes
Water Management in the Ancient World
ISAW-GA 3030-001
Daniel Potts, Sören Stark, & Stephanie Rost
daniel.potts@nyu.edu, soeren.stark@nyu.edu, sr4832@nyu.edu
Tuesdays, 2-5pm
Ancient water management, in particular irrigation, has featured prominently in theories on the evolution of socio-political complexity. As many early civilizations, in particular of the Old World, have developed in large river valleys, scholars have assumed a causal relationship between the organization of irrigation and the formation of early states. The underlying assumption was, and at times still is, that the management of water for irrigation and other purposes requires centralized control, which had set early farming communities in arid zones on a similar evolutionary trajectory. Many of the earlier theories, in particular Karl Wittfogel's hydraulic hypothesis of "Oriental Despotism" have been refuted based on archaeological and ethnographic evidence; however, the role of water management in early state formation is still a topic of considerable scholarly interest.
This class will cover three major themes related to water control and ancient societies: a) the theoretical debate on water management and state formation, b) the variety of water works in the ancient world, and c) alternate explanations of the role of water management in the development and functioning of ancient states. Theme a) will review the most influential essays that shaped the scholarly debate on water management's impact on ancient societies. The body of literature will include, both, archaeological as well as ethnographic case studies. Ethnographic cases studies are particular relevant as they provide detailed insights into the social organization of water management to help formulate more effective research designs for a more nuanced understanding of ancient water management. b) The case studies discussed in this class will be chosen to reflect the great variety of water control in different parts of the world and environmental contexts. The discussion of these different case studies will focus on the interplay of the physical agency of water control structures and the social agency of managing them for specific purposes. This "global" overview will also include a review of the methodological approaches to the study of ancient water management. Armed with that knowledge the last theme c) of the class will evaluate the most recent theoretical approaches to the function of irritation in early state formation. 
Permission of the instructors is required.
Spring 2019: Research Seminars
Art & Archaeology in Tang Chang'an
ISAW-GA 3010-001
Lillian Tseng
lillian.tseng@nyu.edu
Fridays, 2-5pm
This seminar examines diverse visual and material cultures in Chang'an, the capital of the Tang Empire and one of the most cosmopolitan cities in the medieval world. We will study both transmitted and excavated objects, with special attention to their urban, historical and archaeological contexts. We will explore a variety of mediums, such as architecture, sculpture, pictorial art, ceramics and silverware.
Permission of the instructor is required. Ability to read modern Chinese is required. Knowledge of Japanese and Classical Chinese is preferable.
The Hippocratic Corpus
ISAW-GA 3012-001
Claire Bubb
cc148@nyu.edu
Mondays, 9am-12pm
The Hippocratic Corpus comprises medical texts from diverse Greek authors, mostly dated to the 5th and 4th centuries BCE. Generally considered, both in antiquity and by modern scholars, to be the heart of rational Greek medicine, the corpus has exerted an enormous influence on the development of western medical thought (and beyond). Scholarship is also increasingly attuned to connections between these texts and contemporary literature and philosophy. In this seminar, we will read through the entire corpus. In addition to our main focus on the content of the texts, we will also consider contemporary context and influences, with occasional reference to secondary literature as desirable.
Permission of the instructor is required.
Networks & Network Theory in Ancient History & Archaeology: Theory & Application
ISAW-GA 3012-002
Roderick Campbell & Sebastian Heath
rbc2@nyu.edu, sebastian.heath@nyu.edu
Thursdays, 2-5pm
From formal graphing to actor network theory and from social networks to society as networks, networks are ubiquitous in academic discourse from the humanities to the natural sciences. The very popularity of networks creates both opportunities and confusion. On the one hand, there are a myriad of approaches that use the word network, from social theory to computer applications, each with its own potential uses, and, on the other, it is not always clear what sort of network one is referring to when one speaks of network theory. Some theoretical approaches, like actor network theory and Michael Mann's social power use networks as metaphorical constructs rather than employing formal graphing techniques, but it is not clear that these disparate approaches cannot be reconciled.
In half of this co-taught course Professors Roderick Campbell and Sebastian Heath will explore network theories and their applications across a range of disciplines of potential relevance to ancient history and archaeology. The other half of the seminar will be spent learning to use and apply software to various network theory applications. While there are no pre-requisites in terms of specific digital skills, we do ask students to be comfortable using their own computers during class and to be willing to learn new digital methods.
Permission of the instructors is required.
Wine Production and Wine Drinking in the Ancient World: From Domestication to the Symposium
ISAW-GA 3012-003
Lorenzo d'Alfonso
lda5@nyu.edu
Wednesdays, 2-5pm
Among the agricultural products, wine occupies from its very origin a special role in ancient societies. This role originates in the uncommon conditions needed for the cultivation of grapevine, as well as in the toxic properties, both essential for determining its high value. The seminar aims at introducing the participants to the basic botanic and agricultural notions behind wine production, as well as to means and proxies for its study in antiquity. From there the course will move to explore the origin, the techniques of cultivation, storage and production of wine, but above all its use and significance in the different historical contexts of ancient western Asia and the Mediterranean until the definition of the institution of the symposium, in ancient Greece.
Permission of the instructor is required. 
Current Debates in Ancient Art History & Archaeology
ISAW-GA 3013-001
Hallie Franks
hmf2@nyu.edu
Thursdays, 9am-12pm 
Rather than working around a theme or set of sources, this course aims to delineate some of the major current debates around and approaches to the study of ancient material culture. What kinds of questions are presently being asked of monuments and visual sources, both those recently discovered and long known? What theoretical approaches are being newly brought to bear on this material, and to what ends? What, in other words, are the kinds of issues that concern ancient art historians and archaeologists today, and how are they moving the study of ancient art in new directions? In looking to these questions, we will also look back and forward, situating recent studies in relationship to the scholarly history on which they depend.
Discussion topics may involve the use of new technologies, the construction of ancient "social imaginaries", historiographical treatments of race, ethnicity, and gender, and environmental change. That said, topics for many of our classes will be determined on students' fields, interests, and on research exercises. In addition to exposing students to a variety of approaches to ancient material culture, the hope is that this class will help each student to form a picture of their field as a whole and to position their research—present or future—in relationship to contemporary scholarship.
Permission of the instructor is required.
Greek and Mediterranean Ceramics: Material Culture and Historical Interpretation
Antonis Kotsonas
ak7509@nyu.edu
ISAW-GA 3013-003
Wednesdays, 9am-12pm
Pottery is the commonest class of finds in the archaeological record for much of the history of the Mediterranean, and forms the backbone of a range of approaches to the ancient world. This seminar will provide an interpretative survey of Mediterranean ceramics focused on the ways in which this body of material is – and can be – used to address wide-ranging research questions on ancient history. Emphasis will be placed on Greek ceramics of the 1st millennium BCE because of their iconic status in western art history and in world museums, and of the extensive attention they have attracted in the scholarship. However, we will also engage with research on pottery from other regions and chronological periods.
Students will develop an understanding of diverse methods of ceramic analysis and their significance for historical interpretation, and they will engage with historical or art-historical discourses which focus on ceramics but are central to the study of the ancient Mediterranean. The range of issues to be explored includes: potters, painters, and workshops; the circulation of ceramics and its relevance to the study of human mobility, trade and the ancient economy; ceramic style, identity and commensality; data collection strategies and analytical techniques; ceramic chronology and classification and the ways in which they inform historical chronology and interpretation; iconographic and iconological approaches to vase-painting and their significance for the study of ancient visual culture; the reception of Greek and Mediterranean ceramics and its impact on collection strategies and museum displays in the modern world.
Permission of the instructor is required.
Landscapes, Monumentality, Ritual, and the Interface between Anatolia, Assyria and the Northern Levant during the First Millennium BCE, Part II
Beate Pongratz-Leisten
bpl2@nyu.edu
ISAW-GA 3018-001
Tuesday, 9am-12pm
 This course continues the exploration of the fall seminar on Landscapes, Urban Design, and Monumentality, this time, with a focus on three major themes: the perception and conceptualization of nature, the sacralizing of space and demarcation of controlled territory by means of architecture and ritual, and the palace as "Gesamtkunstkunstwerk." We will explore the conceptualization of nature in art, and its recreation in the royal gardens; the significance of place in the collective imagination and social memory as represented by landscape feature including rock carvings, sacred springs and open-air monuments. We will further pursue the question of the inclusion of landscape features in the Hurrian and Hittite Treaties as well as in the Neo-Assyrian Ritual. Water played an immensely important role in the subsistence of the ancient cities and translated into the marking of significant parts of waterworks by means of rock reliefs. How do we have to understand such monuments? Were they places of constant ritual concern or just markings of human intervention into the landscape? How did ritual and sacred architecture define the cultic topography of the state rituals, and how did this cultic topography reflect and delineate the territory of the empire? The last part will be dedicated to the Assyrian palace as Gesamtkunstwerk. The palace can be considered the physical manifestation of royal ideology and extension of royal agency. The content of the building inscriptions emphasizing the use of lavish construction materials assembled for the palace, the scale, the shape, the decorative schemes, and building techniques demonstrate that these do not serve disinterested aesthetics. Rather, these texts buzz with the key words that reflect the impressive appearance and luminosity of the building eliciting admiration and a sense of wonder in the beholder. Textual and archaeological sources will serve to reconstruct the materiality of the palace as Gesamtkunstwerk.
Permission of the instructor is required
Spring 2019: Other Courses
Advanced Ancient Egyptian II
ISAW-GA 1003-001
Niv Allon
Niv.Allon@metmuseum.org
Wednesdays, 9am-12pm
Small Conference Room, 6th Floor
Prerequisites: ISAW-GA 1000, "Intro to Ancient Egyptian I," ISAW-GA 1001, "Intro to Ancient Egyptian II," and ISAW-GA 1002, "Advanced Ancient Egyptian I" (or equivalent coursework).
Permission of the instructor is required.
A Retroactive Manifesto for Mesopotamian Architecture
David Kertai
dkertai@yahoo.com
ISAW-GA 3014-001
Tuesdays, 2-4pm
Large Conference Room, 6th Floor
It is exactly 30 years since Rem Koolhaas published his Delirious New York: A Retroactive Manifesto for Manhattan. In this book, Koolhaas reconstructs the implicit manifesto behind the architectural experiments resulting in the birth of the modern metropolis. The book deals with a dilemma that is familiar to archaeologist: how to reconstruct architectural concepts and ideas when its creators did not make them explicit?
The common approach would be to scavenge ancient sources and make comparisons with buildings that are as similar in time, function, and place as possible. The result has not been very satisfactory and has mostly led to tracing of similarities in floorplans and finding the origin of architectural elements such as columns. Such analyses are a poor substitute for the lack of architectural treaties or for the general absence of contemporary sources such as stories set in the palace, diaries etc.
This course is an experiment in creating a different type of architectural history. We will use modern architectural theories as a framework to look anew at Mesopotamian architecture. This course is about asking different questions and finding new topics to explore. Students will become familiar with Mesopotamian architecture as well as with different architectural theories. Each class is centered on a topic such as the similitude between cities and buildings, the constitutive role of ornament, the tectonics of mud etc. Relevant theoretical texts will be discussed and contextualized. Each class will explore its topic through a case study on a specific Mesopotamian building.
Permission of the instructor is required.