About the JIAAA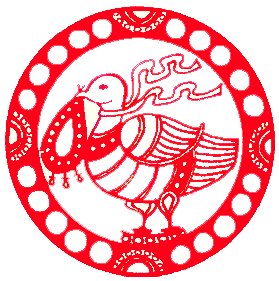 Journal of Inner Asian Art and Archaeology
Published under the aegis of ISAW by Brepols Publishers (Turnhout, Belgium)
Editors
Judith A. Lerner (ISAW, New York), Sören Stark (ISAW, New York), Annette L. Juliano (Rutgers University, Newark, NJ)
and
Editorial Advisory Board

Lilla Russell-Smith (Asian Art Museum, National Museums in Berlin)
Michael Alram (Kunsthistorisches Museum, Vienna)
Jan Bemmann (Rheinische Friedrich-Wilhelms-Universität, Bonn)
A. D. H. Bivar (School of Oriental and African Studies, London)
Philip Denwood (School of Oriental and African Studies, London)
Henri-Paul Francfort (Maison René Ginouvès, CNRS, Paris)
Eleanor G. Sims (London)
Nicholas Sims-Williams (School of Oriental and African Studies, London)
The Journal is devoted to the ancient and medieval cultures of the vast area traversed by the "silk roads." Stretching from the Iranian world into China and from the Russian steppes to northwestern India, the territory today includes Iran, Afghanistan, Pakistan, India, Turkmenistan, Uzbekistan, Tajikistan, Kazakhstan, Kyrgyzstan, Mongolia and regions within the People's Republic of China.
The JIAAA's main focus is on the pre-Islamic and early Islamic art and archaeology of Inner Asia, as well as its languages, religions and history. Volume 1 was launched in 2006, replacing the Newsletter of the Circle of Inner Asian Art (CIAA), established in 1995 at the School of Oriental and African Studies of the University of London by Lilla Russell-Smith; contents of the Newsletters (Issues 1-20, 1995-2005) will appear on the JIAAA site.
Volume 1 (2006) was dedicated to the Iranist, Prof. A. D. H. Bivar on the occasion of his 80th birthday, with its articles mainly dealing with the Indo-Iranian world. Volume 2 (2007) celebrated the 70th birthday of Prof. Roderick Whitfield and focused on themes concerning the Eastern part of the Silk Road and its links to China. Volume 3 (2008) presented a collection of papers on the history, archaeology and culture of the Kingdom of Khotan, prior to 1,000 CE. These three volumes also included articles on other topics. A range of topics and areas characterized volume 4 (2009), from Choresmian painting to Sogdian archaeology and early Buddhist cave-decoration in northern China.
Prospective Contributors are asked to refer to our Notes to Contributors and Style Sheets.
Volume 6 out now!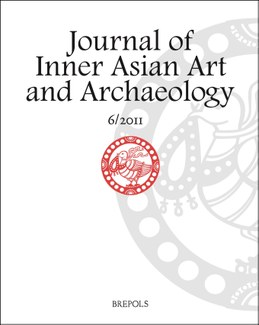 Contents of Volume 6:
Luca M. OLIVIERI, "The Last Phases at Barikot: Domestic Cults and Preliminary Chronology. Data from the 2012 Excavation Campaign in Swat" - p. 7
Mutalib KHASANOV and M. H. ISAMIDDINOV, "Ceramic Imitations of Metalwork of the Early Hellenistic Period in Kurgancha" - p. 41
Géraldine FRAY, Frantz GRENET, Mutalib KHASANOV, Marina REUTOVA, and Maria RIEP,  "Non-Zoroastrian Agrarian Cults in Sogdiana" - p. 53
Lyndon A. ARDEN-WONG, "Preliminary Thoughts on a Marble Tablet from Karabalgasun" - p. 75
Jan BEMMANN, Thomas HÖLLMANN, Birte AHRENS, Thomas KAISER, and Shing MÜLLER, "A Stone Quarry in the Orkhon Valley" - p. 101
Étienne de la VAISSIÈRE, "Two Sogdian(?) Tombs from Gansu. A Preliminary Note" - p. 137
T. H. BARRETT, "Transcribed Printers' Colophons at Dunhuang as Evidence for Early Printing" - p. 149
Marilyn GRIDLEY, "Yulin Cave 30 and Uygur Patronage: Origin and Transmittal of the Theme of Guanyin with Luohans" - p. 155
Gábor KÓSA: "The Sun, The Moon and the Paradise –– An Interpretation of the Upper Register of the Chinese Manichaean Cosmology Painting" - p. 2179
Annette L. JULIANO and Judith A. LERNER: "Conference Notes. 'Sogdians in China: New Evidence in Archaeological Finds and Unearthed Texts'" - p. 205
OBITUARY: Katheryn M. LINDUFF and Karen S. RUBINSON, "Elena Efimovna Kuz'mina (Kuzmina) (1930-2013)" - p. 211
Addresses of Authors - p. 215
Color Plates - p. 217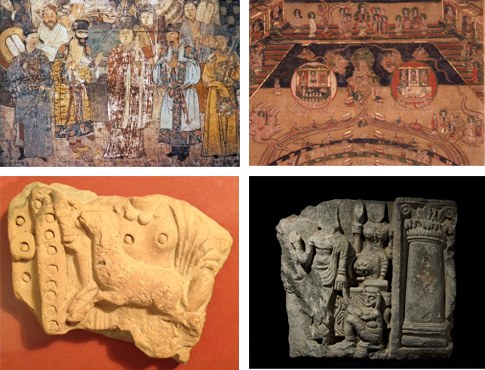 To subscribe to the Journal of Inner Asian Art and Archaeology
Please contact periodicals@brepols.net
If you would like to purchase online access on a pay-per-view article basis, please check:
Brepols Periodica Online: brepols.metapress.com