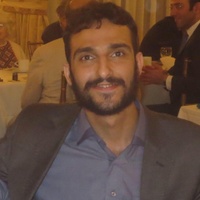 Alireza earned his BA in Archaeology from Bu-Ali Sina University in Iran.  While there, he focused on combining historical evidence with material culture to study the socio-political formation of the Parthian Empire through the study of its local vassals. He participated in several archaeological fieldworks in Iran before receiving a scholarship in 2014 to study for his master's degree at Vrije Universiteit Amsterdam.
At VU, with an interest in interdisciplinary studies, Alireza decided to follow Landscape Archaeology in order to focus on the ways in which people in the past constructed and used the environment around them. In addition to learning about theoretical approaches in Landscape Studies, he took courses in "Cultural Hybridity" and "Romanization" to be able to write a master's thesis to investigate the material culture of the city of Hatra which was located on the Romano-Parthian border in Northern Mesopotamia. In 2015, he was a member of an archaeological survey on the Hellenistic and indigenous sites located in the region of Puliga in southern Italy.
At ISAW, Alireza intends to continue his previous research and expand his focus to Central Asia by applying interdisciplinary methods and digital humanities to better investigate the 'Antique' sites in the region.