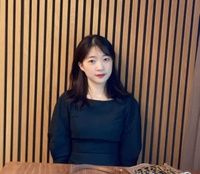 Yu Song received her BA with Honors in History of Art from Tsinghua University, where she developed her interest in ancient near eastern art and archaeology. The department provided her with fundamental education in art history, theory and languages, which enabled her to finish her bachelor's dissertation, named "the image of Shamash during the Akkadian Period". To improve her practical skills, she also did an internship in the Palace Museum in Beijing to learn more about exhibitions.
Then Yu went to the University of Cambridge to continue her study and received the MPhil degree in Assyriology in 2021. During her MPhil, she studied at the department of archaeology and the Newnham College. With broad interests, she pursued Mesopotamian archaeology, Akkadian and Cuneiforms, and Mesopotamian scholarship and religion. At a final stage, she chose to study gifts at Ebla as her MPhil dissertation. Her dissertation, entitled "Gifts at Ebla: the Nature and Networks of Gift Exchange from the late third to early second Millennium BC", explored the nature, function and mechanism of gift exchange at Ebla. After her graduation, she wrote a set of picture books for teenagers to introduce the world of archaeology.
At ISAW, Yu continues her research interest in social and cultural history of ancient Mesopotamia, with a focus on the mobility of social groups, such as the craftsmen. She believes that the craftsmen not only formed our visual world through their works, but also connected different cities and transmitted knowledge. She hopes to explore this exciting topic at ISAW. Besides, she is also willing to communicate with different audience through her words and exhibitions.