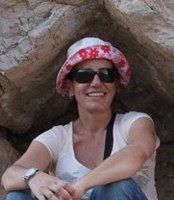 Marta Ameri
Visiting Research Scholar 2017-18
Marta Ameri is an art historian and archaeologist whose work focuses on the art and archaeology of prehistoric South Asia and its connections with Middle Asia and the Gulf Region. She received her BA in Classical and Near Eastern Archaeology from Bryn Mawr College and her MA and Ph.D. in Art History and Archaeology from the Institute of Fine Arts at New York University in 2010. She is currently Assistant Professor of Art History at Colby College, where she teaches courses focusing on Ancient, Medieval and Islamic Art.
Her research explores the development of cultures as well as the connections between them through a lens that is guided primarily by art historical practice, but also takes into account the strong theoretical and methodological approaches of archaeology, anthropology, and historiography. Her dissertation catalogued and examined a group of seals and seal impressions found at the late third millennium Ahar-Banas Culture site of Gilund in Western India. Her current research focuses on the visual analysis of seals of the Indus Valley Civilization.
She is a co-editor of a volume that for the first time brings together scholars studying seals in the Ancient Near East, the Aegean, South Asia and the Gulf, and Egypt to examine the production, use, and iconography of seals in the Ancient World. The volume is scheduled for publication by Cambridge University Press in early 2018. At ISAW, Marta will be working on a monograph, tentatively titled Miniature Arts of the Harappan World: Seals, Sealing and Tablets as Small Windows onto the Indus Valley Civilization, which examines the seals and sealings of the Indus Valley Civilization using a number of diverse theoretical approaches including narrative theory and the semantics of visual language.