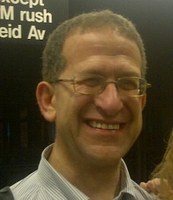 David Levene
Visiting Research Scholar 2017-18
David Levene is Professor in the Department of Classics at New York University, where he has worked since 2006 (including serving as Chair from 2008 until 2017). He holds the degrees of M.A. and D.Phil. from Oxford University; prior to coming to NYU, he held positions at Oxford, Durham, and Leeds.
His primary interests are in Latin prose literature (chiefly historiography and rhetoric), Roman religion, and Roman republican history, but his research has ranged more widely than that: he has, among other things, published articles on the Talmud, on cinema, and on the 19th century French novel. His other publications include articles on the definition of a Roman god, on historical memory at Rome, and on various individual authors, including Sallust, Cicero, Tacitus, Polybius, Pompeius Trogus, and Quintilian. But his particular interest is in the history of Livy, on which he has published two books and a number of articles.
His work at ISAW will be extending his interest on Livy and the Roman Republic in a different direction. He is engaged in a project to produce a text and large-scale commentary (both historical and literary) on the evidence for the 107 lost books of Livy, above all the fragments and epitomes surviving from later antiquity. This involves an examination not only of the particular texts in which Livy is quoted or summarized, but also a broader understanding of the nature of literary quotation of histories and of historical epitomes as a literary genre: one central question in which he is interested is understanding the implicit truth-claims made by such epitomes, whose narrative is avowedly a distillation of an earlier historian, yet which demonstrably presents points of view (and sometimes factual details) which are independent of that earlier work. Moreover, it is not possible to understand the way that later writers responded to Livy in particular without also understanding the way in which the history of the Roman Republic was being interpreted by their contemporaries; this too forms part of the project.
When complete, this study is projected to occupy three volumes; during his year at ISAW he plans - or at least hopes - to finish a draft of the first volume.