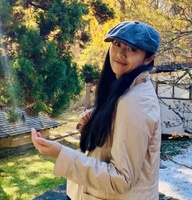 I received my MA in Decorative Arts, Design History, and Material Culture at the Bard Graduate Center and holds a BA in Art History with a minor in Italian at Mount Holyoke College. I wrote my MA thesis on a group of four Western Han (206 B.C.-A.D. 220) gilt-bronze horse frontlets with distinctive designs of hybrid animal with contorted body, aiming to reexamine the visual representation and transmission routes of these objects and to understand their significance in Western Han funerary context.
During my time at the BGC and after graduation I worked as a curatorial intern and later as a research associate in the Asian Art Department at the Metropolitan Museum of Art for the exhibition Age of Empires: Chinese Art of the Qin and Han Dynasties (221 B.C.-A.D. 220).
Both my work at the Met and my research for MA thesis influenced my interests in the art and cultural history of China during the third century B.C. and third century. At ISAW, I intend to further investigate the transmission and transformation of knowledge and material in China, with particular attention to the encounters and interactions along the Chinese frontiers and how they facilitate the exchange and change of both trends in metaphysical thinking and tastes in visual and material culture.