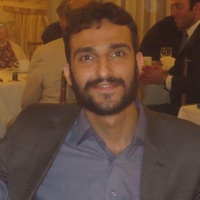 Alireza earned his BA in Near Eastern Archaeology from Bu-Ali Sina University in Iran. Since then his research has focused on the aftermath of Alexander's conquests and the spread of Hellenism from southwest Anatolia to the Mediterranean, Near East and Central Asia. Developing a particular interest in the Seleucid and Arsacid empires, Alireza investigated the socio-political structure of these Hellenistic polities by conducting research on the role of local dynasties (Armenia, Adiabene, Mesene, Elymais and Persis) through literary, archaeological and numismatic evidence. While in Iran he also participated in much archaeological fieldwork spanning from the Neolithic to the Qajar periods before receiving a scholarship in 2014 to study for an MA in Landscape Archaeology at Vrije Universiteit Amsterdam.
At VU, Alireza pursued a combination of coursework and archaeological projects to explore methods for assessing the physical environment as well as human-environment interactions termed biography of landscape. In 2015, he joined the Amastuola Archaeological project to map the settlements of Colonial and Hellenistic Puglia in southern Italy. His interest in recent scholarly approaches to colonization and its significance for the post-Alexander Near East and Central Asia prompted him to investigate the syncretic processes evident in the material culture at one of the main territories of the Arsacid commonwealth, the Kingdom of Hatra in Northern Mesopotamia.
At ISAW, Alireza continues his research on the factors involving the formation of the Arsacid Empire (e.g. religion, ideology of kingship and the role of local elites), and the significance of Hellenism which facilitated the emergence of the cultural blend found in the surviving evidence. Following his summer fellowship at New York's American Numismatic Society, he extended his research to study economic life and monetization during the Seleucid and Arsacid periods. He is now examining the ore-provenance and exchange value of Arsacid copper-alloy coinage, import and imitations of Eastern Sigillata tableware in the Near East, and the degree of capacity standardization in the transport and storage vessels found at Seleucia on the Tigris and other commercial centers in Mesopotamia, the Susiana plain and the Persian Gulf region. Alireza is also developing his coding and mapping skills to locate toponyms and to visualize the routes and trade posts depicted on the Near Eastern section of Tabula Peutingeriana in combination with Isidore's Parthian Stations.
Alireza joined numerous projects dedicated to the salvage and recording of archaeological heritage in Iran. With tremendous interest in site preservation, he is developing a 3D modeling technique to record the excavation process of archaeological sites.