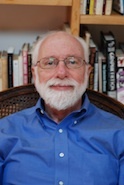 Ogden Goelet
Ogden Goelet received his Ph.D. in Ancient Egyptian History from the History Department at Columbia University in 1982. He has taught undergraduate and graduate courses full time at NYU since 1988 and is now concentrating on graduate courses in the Ancient Egyptian language—introductory and advanced level—at ISAW. His research has been primarily on Egyptian literature and religion with a particular focus on didactic literature and other texts used to teach Ancient Egyptian students how to read and write their language. These two topics are closely related to another area of his interests, the production of religious texts on tomb walls and Book of the Dead papyri. In the spirit of his work on didactic materials, he is writing a reader of Middle Egyptian texts for Cambridge University Press, but for modern university students.

He and his colleague, Dr. Sameh Iskander, are co-directors of the NYU / Supreme Council of Antiquities Expedition of the Temple of Ramesses II at Abydos. They are in the process of publishing the first volume of an epigraphic survey of all the scenes and inscriptions in this temple.

Ogden also serves on the Board of the New York City chapter of the Archeological Institute of America. He is the current co-editor of the Bulletin of the Egyptological Seminar of New York (BES) which is now producing the festschrift for Dr. Dorothea Arnold, the former curator of the Metropolitan Museum of Art.
He currently teaches Introductory and Advanced Egyptian courses at ISAW.