Welcome to the ISAW Library!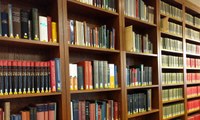 The ISAW Library is a world-class research library that supports the core academic areas represented by the ISAW faculty and students, as well as the interdisciplinary, cross-boundary approach to the ancient world that lies at the center of ISAW's intellectual mission. Particular areas of strength therefore include: Greek and Roman material culture and history; Papyrology; Egyptology; Mesopotamian Archaeology and Assyriology; Central Asia and Iran; and Early China.
As an extension of its mission, the ISAW Library also provides access to and support for new and emerging forms of digital scholarship, scholarly communication, and pedagogy in ancient studies. Several of our current digital projects seek to develop electronic resources for the study of ancient world, as, for example, through the Ancient World Digital Library (AWDL).
The Library is located on four floors of the building, with three floors of movable stacks and one of carrels for graduate students. Space outside the stack core includes work space for visitors and for library staff. The Library is open 9am to 5pm, Monday through Friday (excluding University holidays). In addition to these staffed hours, ISAW students, faculty, and researchers have after-hours access to the library stacks any time the building is open.
The ISAW Library collection is searchable via Bobcat, the catalog of print and electronic resources of NYU Libraries, including audio and video. NYU students, staff and faculty should remember to log in to Bobcat for additional personalized services, including access to online resources on or off campus.
To learn more about our library's collection, services, and other useful resources, please visit the pages below.