Introduction
Echoes of the Past
The Buddhist Cave Temples of Xiangtangshan


Carved into the side of a mountain, the Buddhist cave temples at Xiangtangshan ("Shahng-tahng-shahn") are the crowning cultural achievement of the short-lived Northern Qi ("Chee") dynasty, which ruled over most of northeastern China from 550 to 577 ce. The name Xiangtangshan translates as "Mountain of Echoing Halls," and refers to two groups of rock-cut shrines in Hebei province close to ancient Ye, the Northern Qi capital. The emperors and courtiers who commissioned the temples were non-Chinese, of mixed ethnicities from north of the Great Wall, and practiced Buddhism, a religion favored by this elite. In their entirety, these cave temples housed an awe-inspiring world below ground and reflect a long tradition, begun in India, of situating holy places within the earth itself.
The ISAW installation of Echoes of the Past: The Buddhist Cave Temples of Xiangtangshan unites 12 over life-size sculptures from this Buddhist cave temple complex with a full-scale, digital, 3-D reconstruction of the interior of one of the site's impressive caves. This innovative installation provides an unprecedented insight into the original setting for these remarkable sculptures by marrying twenty-first-century digital techniques and ancient objects.
The sculptures themselves are extraordinarily accomplished. Their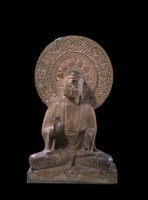 refinement and careful attention to detail is seen in facial expressions, hand gestures, and adornment. These statues are among the finest embodiments of the essence of Chinese Buddhist sculpture as we now know it, and are seminal to our understanding of the history of Chinese Buddhist style and iconography. They span a wide range in composition and scale, and their subjects include monsters, pratyekabuddhas, bodhisattvas, and Buddhas.
The artistic excellence of individual sculptures from Xiangtangshan has long been recognized. Their original context in the caves was lost, however, when the objects were removed and sold on the international art market in the early twentieth century, and their importance as a group was overlooked for generations. Research conducted by the Xiangtangshan Caves Project, an international collaboration based at the University of Chicago, has now brilliantly reassembled many of the missing pieces. By combining cutting-edge 3-D imaging technology with traditional scholarly research, the project has successfully identified and catalogued nearly one hundred sculptures from the Xiangtangshan complex that are now in Japan, Taiwan, Europe, Canada, and the United States.
The "Digital Cave" is an enveloping media installation that layers high-resolution color photographs and 3-D laser scans of original sculptures removed from the site onto digitized scans of the inner walls and ceiling of a single cave temple in its current state of preservation, allowing visitors to experience not only the interior of one of the most impressive caves at Northern Xiangtangshan, but also the many steps involved in the project's research. Echoes of the Past offers an exceptional opportunity to view the dispersed sculptures assembled together—in galleries both real and virtual.
Image: "Seated Buddha"
Limestone freestanding sculpture with traces of pigment and lacquer
Xiangtangshan: Northern Group, attributed to North Cave, perimeter
wall niches, 550–559 CE
Victoria and Albert Museum, Presented through the National Art
Collections Fund by a Body of Donors (A4-1924)