Digital Cave
Weaving together archival photographs and current imaging technology, the Digital Cave serves as a virtual reconstruction of the South Cave at Northern Xiangtangshan. This immersive installation allows viewers to experience the site and see sculptures that have been removed from the cave restored within their original setting.
The configuration and scale of the three screens are based on the architecture of the South Cave, the latest of the three cave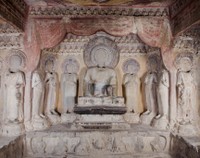 temples of the northern group and one that contains inscriptions dated to 568–572. The South Cave features an open cubical chamber, about ten feet wide by nine feet deep, with curving recesses on the back and side walls that house symmetrical groupings of deities.
Many sources were used to construct the Digital Cave, including black-and-white photographs from the 1920s, new color photography, and new 3-D laser scans of both the cave temple interior and its dispersed sculptures, collected by University of
Chicago and Peking University research teams. The surface of each 3-D model was overlaid with 2-D color photographs in a process called texture-mapping, which allows models of the cave interior as it exists today to be united with untextured 3-D models of sculpture long since removed from the site (represented in bright yellow).
In the Digital Cave, the underlying structure is depicted as black wire-frames over a yellow ground. The new technologies employed in the Digital Cave made it possible to pinpoint the original locations of sculpture fragments now dispersed in private and museum collections around the world and provide an extraordinary means to view them again in their original locations.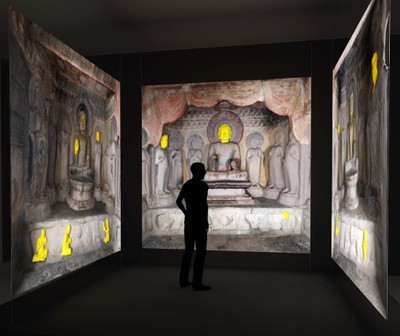 The Digital Cave was produced and directed by Jason Salavon, with assistance from Travis Saul, 3-D graphics and animation; Michelle Graves, editing; Larry Smallwood, ESAM, LLC, installation production; and Alexander Dunn and Mark Beasley, technical assistance.
Images Top to Bottom:
South Cave, Northern Xiangtangshan, current condition. Photo: Center for the Art of East Asia, Department of Art History, University of Chicago. Photo: Dan Downing.
Still of screen from Digital Cave: close-up view of 3-D reconstruction of missing Buddha head in yellow against colored (texture-mapped) cave temple wall, east altar, South Cave, Northern Xiangtangshan, with missing fragments shown in yellow. Photo: Jason Salavon and Travis Saul, University of Chicago.
Artist's rendering of Digital Cave: synchronized view of the 3-D digitally reconstructed north, east, and south altars of the South Cave, Northern Xiangtangshan. Photo: Jason Salavon and Travis Saul, University of Chicago.