Echoes of the Past
ECHOES OF THE PAST
The Buddhist Cave Temples of Xiangtangshan
September 11, 2012 - January 6, 2013
Hours: Tuesday-Sunday 11am-6pm, Friday 11am-8pm,
Closed Monday
FREE Guided Tour, Fridays 6pm
Thursday, November 22, 2012
Tuesday, December 25, 2012
Tuesday, January 1, 2013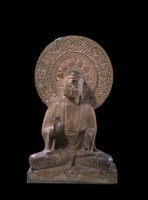 "Echoes of the Past" unites a group of imposing sculptures from the Northern Qi period (550-577 CE) Buddhist cave temple complex at Xiangtangshan in northern China with a full-scale, digital, 3-D reconstruction of the interior of one of the site's impressive caves. This innovative installation provides an unprecedented insight into the original setting for these remarkable sculptures by marrying twenty-first-century digital techniques and ancient objects. The sculptures are extraordinarily accomplished, their refinement seen in facial expressions, hand gestures, and adornment. These statues are among the finest embodiments of the essence of Chinese Buddhist sculpture as we now know it, and are seminal to our understanding of the history of Chinese Buddhist style and iconography.
Image: "Seated Buddha"
Limestone freestanding sculpture with traces of pigment and lacquer
Xiangtangshan: Northern Group, attributed to North Cave, perimeter
wall niches, 550–559 CE
Victoria and Albert Museum, Presented through the National Art
Collections Fund by a Body of Donors (A4-1924)
Echoes of the Past: The Buddhist Cave Temples of Xiangtangshan is organized by the Smart Museum of Art, University of Chicago and the Arthur M. Sackler Gallery, Smithsonian Institution. Major funding is provided by the National Endowment for the Humanities, the Leon Levy Foundation, the Smart Family Foundation, and the E. Rhodes and Leona B. Carpenter Foundation. The catalogue was made possible by Fred Eychaner and Tommy Yang Guo, with additional support from Furthermore: a program of the J. M. Kaplan Fund .
The exhibition is supported by a grant from the National Endowment for the Humanities. Any views, findings, conclusions, or recommendations expressed in this exhibition do not necessarily reflect those of the National Endowment for the Humanities.