Exhibition Highlight - 2
Left Hand of Maitreya, Buddha of the Future, Holding the Looped End of His Robe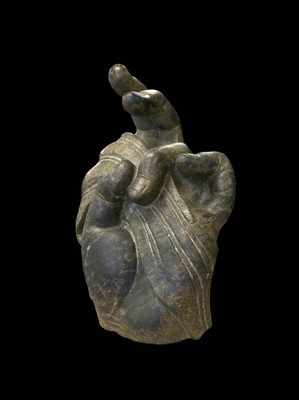 Left Hand of Maitreya, Buddha of the Future, Holding the Looped End of His Robe
Xiangtangshan: Northern Group of Caves, North Cave, south face altar of central pillar, 550-559 ce.
Limestone high relief, 29  x 16 ½ x 11 in. (73.7 x 41.9 x 27.9 cm).
Asian Art Museum of San Francisco, Transfer from the Fine Arts Museum of San Francisco (B69 S37).
This left hand of a Buddha is raised with the thumb and fourth fingers lightly touching and the index finger and middle fingers extended. The hand position resembles the gesture of benediction seen in Christian art, but in fact he holds a loop of cloth from the end of his monastic robe. The modeling is sensitive, with smoothly curving surfaces and attention to details in the creases, fingernails, and cuticles. The Buddha on the south side of the central pillar of the North Cave was photographed in the early 1920s with this hand still in situ. He is the Buddha Maitreya, the Buddha of the Future.