Exhibition Highlight - 3
Head of a Bodhisattva Attendant of Maitreya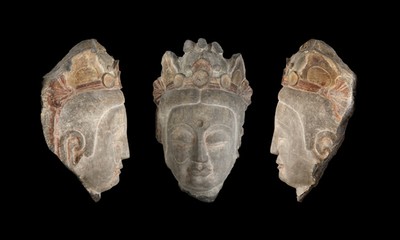 Head of a Bodhisattva Attendant of Maitreya
Xiangtangshan: Northern Group of Caves, North Cave, south face altar of central pillar, 550-559 ce.
Limestone high relief with traces of pigment, 33 1/16 x 14 x 16 15/16 in. (84 x 35.5 x 43 cm). 
University of Pennsylvania Museum of Archaeology and Anthropology, Purchased from C.T. Loo, with funds from James B. Ford, 1918 (C353).
This large head of a Buddhist deity wears a crown with three peaked and jeweled plaques attached to a band tied around the hair. The broad high forehead displays the urna, originally the whorl of hair that was a special feature of the Buddha and became a Buddhist sign of wisdom. The bodhisattvas are the most richly adorned of all Buddhist deities, and in the ornaments they wear we can discern influences from Central Asia that came in with traders and craftsmen who were in China in large numbers at this time. The carving of the head displays the subtle modeling that was an important achievement of Northern Qi artists, and the figure that this head came from is also carved with great refinement.