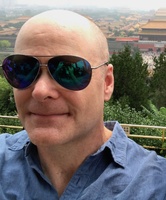 Roderick B. Campbell
Associate Professor of East Asian Archaeology and History
Since graduating from Harvard in 2007 with a dual degree in Anthropology (Archaeology) and East Asian Languages and Civilizations (Chinese History) Professor Campbell's research has been focused on theorizing ancient social-political organization, social violence and history. His geographical and temporal focus has been late 2nd millennium BC north China, although an interest in broader comparison and long-term change is beginning to draw him beyond Shang China.
The recent, stunning pace of archaeological work in China has created both a huge backlog of un-or under-analyzed materials and an ever-growing mass of Chinese language publications rapidly outdating Western academic knowledge of the field. This situation creates great opportunities for new analyses and a dire need for new English-language syntheses of the early history of one of the world's great civilizations. With training as an archaeologist, historian and epigrapher, his work attempts to unite disparate sources of evidence with contemporary social theory.
Professor Campbell's current fieldwork project, a collaboration with archaeologists from the Chinese Academy of Social Sciences, is a zooarchaeological production analysis on what may be the world's largest collection of worked bone at Anyang, the last capital of the Shang dynasty. Recent publications have included an article on early complex polities for Current Anthropology and a report on the Origin of Chinese Civilization Project (with Yuan Jing) for Antiquity. He has recently finished an edited volume manuscript on Violence and Civilization for the Joukowsky Institute publication series and is finishing up another manuscript on the archaeology of the Chinese Bronze Age for the Cotsen Institute. He has received numerous fellowships, awards and grants for his work including ones from the Luce Archaeology Initiative, the Chiang Ching-kuo foundation, and the Canadian Social Sciences and Humanities Research Council.