Library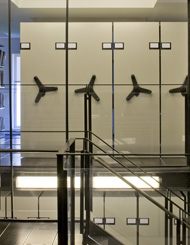 ISAW is developing a working library covering the full range of relevant fields. It has so far acquired several private libraries, with strengths in Greek and Roman material culture and history, Egyptology, Mesopotamian Archaeology and Assyriology, Central Asia and Iran, and Asian Art. As well as providing coverage across a wide range of subjects, the library aims to develop strengths in areas otherwise not well represented in New York area libraries. ISAW aims also to play an active role in developing and providing access to electronic resources for the ancient world. The library is located on four floors of the building, with three floors of movable stacks and one of carrels for graduate students. Space outside the stack core includes work space for visitors and for library staff.
The Library is open 9-5 M-F [except University holidays] to the New York University community and to all scholars needing access to its collections.
ISAW Library collections are searchable via Bobcat, the catalog of print and electronic resources of NYU Libraries, including audio and video.  NYU students, staff and faculty should remember to Sign in for additional personalized services - this will allow you access to online resources whether you are on or off campus.
ISAW Library staff collects and curates electronic resources relating to various areas of scholarship on the Ancient World in two projects:
The ISAW library is undertaking the development of a suite of resources collectively known as the Ancient World Digital Library (AWDL).  The first fruits of this program, developed in partnership with the NYU Libraries' Digital Library Technology Services Department, is the AWDL Book Viewer.