Indian Ocean Figures that Sailed Away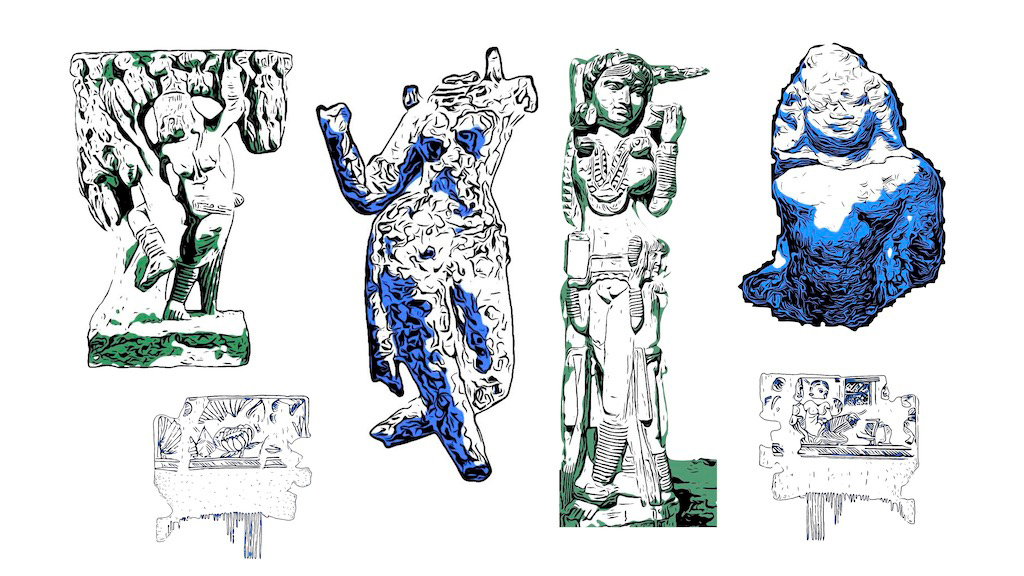 This online series brings focus to a range of archaeological finds of South Asian manufacture from sites in the Horn of Africa, and in the Italian and Arabian peninsulas—some long known and some newly excavated—to expand our knowledge of the Indian Ocean cultural milieu as well as hint at the identities of people who moved objects overseas during the first millennium CE. Our discussions may shed light on the hybridity of both artifacts and their cultural context(s) as well as offer a complementary reading to literary accounts and historiographies of Indian Ocean trade.
The series begins with a public lecture on February 10, 2022 as part of the exhibition, "Pompeii in Color: The Life of Roman Painting," featuring Dr. Annette Giesecke (Victoria University of Wellington) and Dr. Naman Ahuja (Jawaharlal Nehru University). It will close with an academic lecture on April 25, 2022, "Seeing the Early Indian Ocean as a Peopled Seascape," featuring Dr. Ranabir Chakravarti (Jawaharlal Nehru University) and Dr. Eivind Heldaas Seland (University of Bergen), both scholars of Indian Ocean trade and travel who will help us 'see' some of the people and networks supporting maritime movement during the first millennium.   
Each of five (5) Friday roundtable sessions listed below will focus on a specific excavated artifact.  The session will be led by two to three scholars who know the object(s) well.  An ensuing online discussion will be facilitated by their perspectives on the figure (or figures) and pre-circulated questions made available on this conference website.  We look forward to a rich discussion.  
The figure (or figures), along with their multiple contexts from manufacture to findspot, will act as fulcrum for our discussions.  By attending to meaning(s) associated with objects and contexts, we will reconsider what and who sailed out of India to points west during the first millennium CE.  Via our collaborative research process, the seminar will read layers of reception to posit some answers to larger questions of the first millennium Indian Ocean: its people, its cultures, its complexities, and its hybridities.
We are happy to bring together close to 100 participants.  A full list of organizers, speakers, and participants based in 13 countries can be found here. The workshop is open to advanced students and academics; please note that this event is not intended for the general public and advanced registration is required. To register for all or parts of this series, please visit this registration link. 
After completing the registration process, you will receive a zoom link for the talk.  If you have any difficulties with the link, please e-mail: indianoceanfigurines@gmail.com.
Session web pages with discussion leader bios, bibliographies, and other discussion supports, will be made available one week prior to the date of the session. The complete set of images can be found here.
Dates and Sessions:
February 25, 2022: 11am EST 
This session discusses Indian comparisons and meanings for the Pompeii object. Discussion leaders: Chandreyi Basu (St. Lawrence University) and Pia Brancaccio (Drexel University).
March 4, 2022: 11am EST
This session addresses the materiality of objects exchanged and their Arabian milieu. Discussion leaders: Serena Autiero (Ruhr-Universität Bochum), Carol Radcliffe Bolon (formerly Smithsonian, Freer Gallery of Art), and Antonietta Catanzariti (Smithsonian Institution).
March 11, 2022: 11 am EST 
This session will emphasize the contexts of "other" objects, including a terracotta torso from Adulis, a stone head from Berenike, and several ivory combs from Dibba and other places. Discussion leaders: Gabriele Castiglia (Pontificio Istituto di Archeologia Cristiana), Anna Filigenzi & Chiara Zazzaro (Università degli Studi di Napoli "L'Orientale"), and Jeremy Simmons (University of Maryland).  
March 25, 2022: 11am EDT (NOTE: 3pm GMT; 4pm CET; 8.30pm IST)
This session discusses the role of the merchant as an agent of exchange and movement, looking at graffiti of ships from Socotra (alt. Soqotra) and the east coast of Africa. Discussion leaders: Nathanael Andrade (Binghamton University), Mark Horton (Royal Agricultural University and Emeritus University of Bristol) and Ingo Strauch (Université de Lausanne). 
April 1, 2022: 11am EDT 
This session focuses on the 18th-19th century historiography and curatorial afterlife of Indian Ocean objects in museum collections while considering the work done in previous sessions. Discussion leaders: Clare Fitzgerald (ISAW) and John Guy (The Metropolitan Museum of Art). 
Indian Ocean Figures that Sailed Away Team:
Divya Kumar-Dumas, Ph.D. and Valentina A. Grasso, Ph.D., Visiting Scholars
Priya Barchi and Lylaah L. Bhalerao, PhD Students
Dan Potts, Faculty Advisor
Questions?  Email us: indianoceanfigurines@gmail.com