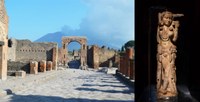 Pompeii with Mt. Vesuvius in the background & Indian ivory statuette of a female figure from Pompeii, 3 1st c. BCE-1st c. CE Produced in India, possibly Bhokardan. Museo Archeologico Nazionale di Napoli (MANN), inv. 149425.
Transplanting India: Luxury and an Ivory Statuette in Pompeii
Exhibition Lecture
Dr. Naman Ahuja and Dr. Annette Giesecke
Jawaharlal Nehru University, New Delhi and Victoria University of Wellington, New Zealand
Organized and Moderated by Divya Kumar-Dumas, ISAW Visiting Research Scholar
In this talk two distinguished scholars will discuss how notions of ancient Roman taste have influenced our understanding of a unique object from India found in a Pompeian home. Excavated from the 'Casa della statuetta indiana' (House I.8.5), the small ivory female figure was, until recently, labeled as Lakshmi. Now interpreted as representing a yakshi (or tree spirit), it is held in the 'secret cabinet' of the Museo Archeologico Nazionale di Napoli. Back-to-back talks by Dr. Annette Giesecke and Dr. Naman Ahuja will explore its Roman reception as a luxury from afar and its iconography via Indian comparisons. The resulting conversation should raise questions about potential meanings associated with such objects in antiquity. 
A scholarly series about the figurines cited in this lecture will be held online.  See website for details: https://isaw.nyu.edu/research/io-figures.
Annette Giesecke, PhD, is a specialist in the history, meaning, and representation of ancient Greek and Roman gardens and designed landscapes. Her work extends to domestic architecture and décor in the ancient Mediterranean world, the influence of Middle Eastern garden traditions on those of the West, and the many cultural 'uses' of plants in antiquity: symbolic, religious, culinary, medicinal, ornamental, and technological included. Dr. Giesecke's books include A Cultural History of Plants, 6 vols. (general editor, volume editor, and contributor; Bloomsbury, 2022), Classical Mythology A to Z (Black Dog and Leventhal, 2020), The Mythology of Plants (Getty Museum, 2014), and The Good Gardener? Nature, Humanity, and the Garden (Artifice Books on Architecture, 2015). A Dumbarton Oaks Fellow in Garden and Landscape Studies 2019-2020 and The Archaeological Institute of America Jashemski Lecturer on Roman Gardens (2013-2014), she is currently a research professor in the Centre for Science in Society at Victoria University of Wellington, New Zealand. Dr. Giesecke has taught at the University of Delaware, UCLA, and Loyola Marymount University. She holds a BA from UCLA and an MA and PhD from Harvard. 
Naman P. Ahuja is a curator and Professor at Jawaharlal Nehru University, New Delhi. His studies on Indian art have explored the aesthetics of Indian visual culture, iconography and transculturalism in antiquity, as well as the legacy of the Arts and Crafts Movement in the modern period. Apart from various research papers, he has authored the following books: Divine Presence: The Art of India and the Himalayas (Casa Asia and Five Continents Editions: Barcelona and Milan, 2003), The Making of the Modern Indian Artist-Craftsman: Devi Prasad (Routledge, 2011), The Body in Indian Art and Thought (Ludion, Antwerp, 2013), The Arts and Interiors of Rashtrapati Bhavan: Lutyens and Beyond (Publications Division, Delhi, 2016), India and the World: a history in nine stories (Delhi: Penguin, 2017), The Art & Archaeology of Ancient India, Oxford: Ashmolean Museum, November 2018 and recently the edited volume: Gandhara-a confluence of cultures (Marg Publications, Mumbai, 2019).
Composite Image:
Pompeii with Mt.Vesuvius in the background. Photo by Annette Giesecke
Indian ivory statuette of a female figure from Pompeii, 3; 1st c. BCE-1st c. CE; Produced in India, possibly Bhokardan. Found in the House of the Indian Statuette (Casa della Statuetta Indiana), Pompeii, in 1938. In the collection of the Museo Archeologico Nazionale di Napoli (MANN), inv. 149425. Photo by Dan Diffendale on display in the exhibit "Pompei 79 d.C. Una storia romana" (8 February–9 May, extended until 27 June 2021) at the Colosseum. Some rights reserved.
This lecture is given in conjunction with ISAW's exhibition Pompeii in Color: The Life of Roman Painting. The exhibition is made possible by generous support from The Achelis and Bodman Foundation, the Samuel H. Kress Foundation, and the Leon Levy Foundation. Additional funding provided by Victoria Newhouse.
Please check isaw.nyu.edu for event updates.
ISAW is committed to providing a positive and educational experience for all guests and participants who attend our public programming. We ask that all attendees follow the guidelines listed in our community standards policy.