(Session 5) "How did we receive these objects into our mental world?" — Curation and Conclusions
This session focuses on the 18th-19th century historiography and curatorial afterlife of Indian Ocean objects in museum collections while considering the work done in previous sessions. Discussion leaders: Clare Fitzgerald (ISAW) and John Guy (The Metropolitan Museum of Art).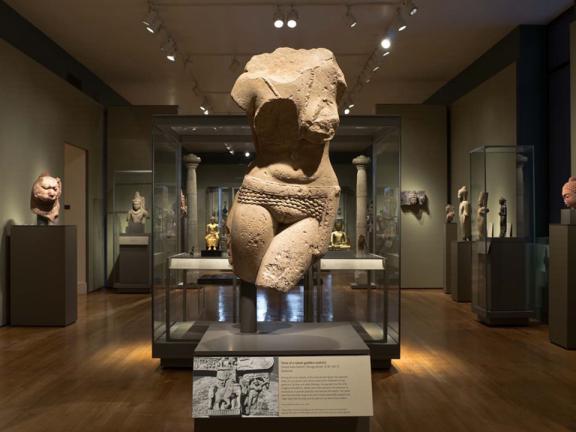 In this final session, after reviewing the previous four in which Indian yakshi and other figurines were presumably brought to their find spots across the Indian Ocean by people involved in maritime trade, we turn our attention to figures from India that sailed away not in antiquity through organic trade and mercantile networks, but by force during the nineteenth century in an imperial system. We focus on yakshi figures from Sanchi that were removed and have ended up in British or North American museums: the British Museum in London, the Museum of Fine Arts in Boston and the Los Angeles County Museum of Art.
Sanchi first became known to Europeans during Britain's colonization of India during the Third and final Anglo-Maratha War in 1818, in which the British East India Company gained control of all territory south of the Punjab. The first survey of the site was conducted in 1851 and it was restored by notable British archaeologist Sir John Marshall in the early twentieth century. 
It is difficult to pinpoint when, exactly, the yakshi figures were removed, as this form of colonial archaeology did not necessitate the records we would require today. Most likely they were removed during the mid-century excavations and taken to London. One made its way into the British Museum's collection by 1842, whilst others sailed once again—this time across the Atlantic—in the twentieth century. It is important to consider these objects sailing away in the context of an imperial system that facilitated the forced movement of people and objects across the globe. In our final session, we attempt to grapple with this issue and its implications from a postcolonial perspective, while also analyzing their contexts of display, both physical and digital. 
Underlying all these topics is the question of accessibility: how were yakshis accessed in the past? By whom? Are these yakshis more accessible now in western museums than in situ? For whom?  What are the implications of making such an argument? In a post-Covid world has the necessity of accessing objects in person been undermined? Are they better accessed online? How much can we learn about these yakshis from a museum website versus in a gallery?
Speaker Bios
Clare Fitzgerald is the Bernard and Lisa Selz Director of Exhibitions and Curator at NYU's Institute for the Study of the Ancient World where she works on exhibitions across a broad geographical and chronological scope and teaches on museum methodology and practice.  
John Guy is the Florence and Herbert Irving Curator of the Arts of South and Southeast Asia at The Metropolitan Museum of Art, New York, and an elected Fellow of the Society of Antiquaries London (2003) and the American Academy of Arts and Sciences (2016). He has worked on a number of archaeological excavations, including late first millennium maritime sites in Southeast Asia, and served as an advisor to UNESCO on historical sites in Southeast Asia. 
Images
Links to Objects Online
British Museum: https://www.britishmuseum.org/collection/object/A_1842-1210-1
MFA: https://collections.mfa.org/objects/17530
LACMA figure: https://collections.lacma.org/node/250015
LACMA bust: https://collections.lacma.org/node/242316
Discussion Questions
Why does this subject matter today?
What is the excavation or acquisition history of the figures in museums? What is their exhibition history?
Do the figures in British and North Americans belong there, or elsewhere?
What are the implications of seeing these objects in museums, as opposed to in situ? Or of seeing them in museums in countries far away from where they were originally located? How do these conditions change the experience of viewing an object? What if they are in storage?
Are the objects displayed effectively where they are currently held? Are they displayed effectively online?
How does the modern experience of these figures compare with the ancient? Who accesses them now and who accessed them in the past?
How much can we learn about these figures from their museum settings? How much can we learn online?
Are British and North American museums changing in the way they approach or display Indian figures? If so, how?
Finally, where do we go from here?
Key References
Barringer, T. "The South Kensington Museum and the Colonial Project." In Colonialism and the Object: Empire, Material Culture and the Museum. New York; London: Routledge. 1998.
Buchthal, H. "The Monuments of Sanchi." The Burlington Magazine for Connoisseurs, 81: 476. 1942. 278–81.
Coomaraswamy, A.K. "Yaksas (With 23 Plates)." Smithsonian Miscellaneous Collections, 80:6. Published by the Smithsonian Institution: City of Washington. 1928.
Coomaraswamy, A. K. "The Sanchi Yaksi Torso." Bulletin of the Museum of Fine Arts, 28:165. 1930. 18.
Cunningham, A. The Bhilsa topes : Or, Buddhist monuments of Central India, comprising a brief historical sketch of the rise, progress, and decline of Buddhism, with an account of the opening and examination of the various groups of topes around Bhilsa. London: Smith, Elder. 1854.
Fergusson, J. & Great Britain. India Office. Tree and serpent worship : Or, Illustrations of mythology and art in India in the first and fourth centuries after Christ. London: India museum, W.H. Allen, to the India Office. 1868.
Guha-Thakurta, T. "The Production and Reproduction of a Monument: The Many Lives of the Sanchi Stupa." South Asian Studies, 29:1. 2013. 77-109.
Koezuka, T. Masterpieces of Buddhist and Hindu Art from the British Museum. London: British Museum Press. 1994.
Marshall, J. & Foucher, A. The monuments of Sanchi; 3 vols. Delhi. 1902.
Pal, P. Puja and Piety: Hindu, Jain, and Buddhist Art from the Indian Subcontinent. Santa Barbara, California : Santa Barbara Museum of Art in association with University of California Press. 2016.
Parker, D C. "Tracing Buddhism in the British Museum : Biographies of Select Buddhist Objects acquired by the British Museum in the 19th - 20th c." MPhil thesis. SOAS University of London. 2019.

Rosenfield. J. "The Arts of Buddhist India in the Boston Museum." Bulletin of the Museum of Fine Arts, 63: 333. 1965. 130-67.
Singh, K. "Sanchi, in and out of the museum." Sculpture Journal, 28:3. 2019. 345–364.
Willis, M. "Sculpture from India," in Augustus Wollaston Franks: Nineteenth Century Collecting and the British Museum, edited by Majorie and John Cherry Caygill. London: British Museum Press. 1997. 250-61.
Speaker References
The following publications by  John Guy relate to the topic and include many discussed images and objects along with other relevant comparisons.  
Woven Cargoes. Indian Textiles in the East, London, Thames & Hudson, 1998 (repr. 2008)           
'A Boat Model and State Ritual in eastern India', Bulletin de l'Ecole Francaise d'Extreme-Orient, vol. 86, 2000: 105-126.  
 'Offering up a rare jewel: Buddhist merit-making and votive tablets in early Burma', in R. Blurton and A. Green (eds.), New Researches on the Art and Archaeology of Burma, London, British Museum Publications, 2003: 23-33.
 'The Intan shipwreck: a 10th century cargo in South-east Asian waters', in S. Pearson (ed.), Song Ceramics. Art History, Archaeology and Technology, University of London, Percival David Foundation of Chinese Art Colloquies on Art & Archaeology in Asia No. 22, 2004: 171-192.  
'Echanges artistiques et relations interregionales dans les terretoires Cham', in  P. Baptiste and T. Zephir (eds.), Tresors d'art du Vietnam. La Sculpture du Champa, Paris, Musee Guimet, 2005: 141-153.
 'Early ninth‑century Chinese export ceramics and the Persian Gulf connection: the Belitung shipwreck evidence', in Chine ‑ Mediterranee, Routes el echanges de la Ceramique jusqu'au XVI Seicle, TAOCI, Revue annuelle de la Société française d'Étude de la Céramique orientale, vol. 4, 2006: 9‑20.
'Tamil merchant guilds and the Quanzhou trade', in A. Schottenhamer (ed.), The Emporium of the World. Maritime Quanzhou 1000-1400, Leiden, E. J. Brill, 2001: 283-308 (reprinted in G. Wade (ed.), China and Southeast Asia, London, Routledge, 2009, vol. 1: 232-60).
'Quanzhou, City of Faith. The International Port City of Yuan China', in  J. Watt (ed.), The World of Kubilai Khan. The Art of Mongol China, New York, The Metropolitan Museum of Art, 2010: 158-77
'Rare and Strange Goods: International Trade in Ninth-Century Asia', in R. Krahl, J. Guy et al (eds.), Shipwrecked. Tang Treasures and Monsoon Winds, Washington DC, Sackler Gallery, 2010: 19-28.
 'Tamil Merchants and the Hindu Buddhist Diaspora in Early Southeast Asia', In Early Interactions between South and Southeast Asia: Reflections on Cross-Cultural Exchange edited by Pierre-Yves Manguin and A. Mani. Singapore: Institute of Southeast Asian Studies and New Delhi: Manohar Publishers and Distributors, 2011: 243-62.
'One thing leads to another: Indian Textiles and the Early Globalization of Style' in Amelia Peck (ed.), The Interwoven Globe. International Textile Trade, 1500-1800, The Metropolitan Museum of Art /Yale University Press, 2013, pp. 12-27 and 16 catalogue entries.
Lost Kingdoms. Hindu-Buddhist Sculpture of Early Southeast Asia, The Metropolitan Museum of Art, /Yale University Press, 2014.
'Cast of a Emblema (Medallion) with Aphrodite and Eros' in Carlos A. Picon and Sean Hemingway, Pergamon and the Hellenistic Kingdoms of the Ancient World,  The Metropolitan Museum of Art /Yale University Press, 2016: 250-51.
 'The Phanom Surin Shipwreck, a Pahlavi Inscription, and their Significance for the History of Early Lower Central Thailand', Journal of the Siam Society, vol. 105, 2017: 179-96. 
'Shipwrecks in Late First Millennium Southeast Asia: Southern China's Maritime Trade and the Emerging Role of Arab Merchants in Indian Ocean Exchange', in Angela Schottenhammer (ed.), Early Global Interconnectivity across the Indian Ocean World. Cham, Switzerland, Palgrave Macmillan, 2019: 121-163.
 'Long distance Arab shipping in the 9th century Indian Ocean: recent shipwreck evidence from Southeast Asia', Current Science, vol. 117, no. 10. November 2019: 1647-1653.