Community
This article first appeared in ISAW Newsletter 13, Fall 2015.
Visiting Research Scholars 2015-16
Frederic Clark
Visiting Assistant Professor, Ph.D., Princeton University, Dividing Time: The Making of Historical Periodization in Early Modern Europe, c.1500-1750; The First Pagan Historian: The Fortunes of a Fraud from Antiquity to Enlightenment

Pam Crabtree (Fall 2015)
NYU, Anthropology, Early Medieval Britain: The Rebirth of Towns in the Post-Roman West

Jue Guo
Barnard College, A Life on Display: Reconstructing the Worlds of a Chu Official in Early China

Arnulf Hausleiter
German Archaeological Institute (DAI), Re-defining Northwest Arabia in the 2nd Millennium BC: Culture, Economy and Political Organization in a Key Contact Zone of Ancient Western Asia

Annette Juliano
Rutgers University, Northern Zhou Buddhist Sculpture and Painting (557-581): Reconsidered

Gina Konstantopoulos
Visiting Assistant Professor, Ph.D., University of Michigan, Elsewhere is a Negative Country: The Role of Supernatural Figures and the Construction of Imaginary and Abstracted Lands in the Ancient Near East

Elizabeth Murphy
Visiting Assistant Professor, Ph.D., Brown University, At the Intersection of Work, Economy, and Society: A Cross-industry Analysis of Production, Labor, and Work in the Roman Eastern Mediterranean

Franziska Naether
University of Leipzig, Cult Practice in Ancient Egyptian Literature

Parvaneh Pourshariati
New York City College of Technology (CUNY), Merchants and Ideologies in The Late Antique Middle East (500-900 C.E.): The Arab Conquest of Iran and the Fertile Crescent and its Aftermath

Jonathan Skaff
Shippensburg University, Silk Roads and Steppe Roads of Medieval China

Zeev Weiss (Spring 2016)
Hebrew University of Jerusalem, Sepphoris: A Cultural Mosaic from Alexander to Muhammad
Incoming Graduate Students
Christine Roughan
I received my BA in Classics with a minor in Physics in 2014 at the College of the Holy Cross. During my time at Holy Cross, research with the Homer Multitext project inspired my interest in textual transmission and digital representation; I later brought this experience to bear upon my undergraduate research with Archimedes. As a Fulbright researcher at the University of Leipzig from 2014 to 2015, I investigated the potential of digital methods to effectively represent the complicated written and printed transmission of Euclid's Elements. At ISAW I will further pursue ancient mathematical and scientific texts and diagrams as they cross temporal, spatial, and cultural boundaries, while keeping in mind the evolving digital methods that seek to preserve, analyze, and share them today.

Georgios Tsolakis
I received my BA in History and Archaeology from Aristotle University of Thessaloniki, Greece, going on to complete my MA in the Department of Ancient Greek and Roman History. In my MA thesis, entitled 'Public Life and Family Tradition in the Greek Cities of Asia Minor: The Case of Aphrodisias', I attempted to synthesize my research interests on the concepts of ethnic and civic situational identity with reference to the Greek polis. The thesis aimed to introduce a critical discourse analysis of civic identity and the importance of family relations among Aphrodisias's citizens through the examination of epigraphical texts and the civic honors received. At ISAW, I intend to extend this research into the associated axes of identities, memory and ethnicity. The semantic field of the word 'identity' shares themes with collective consciousness, cultural community, otherness, the definition of the self in relation to the Other, as well as matters of ethnicity. In particular, I would like to focus on the cross-scale interaction of individual, communal and ethnic identities, and their diachronic representation across both epigraphic and literary sources.

Alice Wang
I graduated summa cum laude from UCLA in 2013 with a degree in Anthropology. At UCLA, I worked closely with professors in all four subdisciplines of Anthropology, in particular the physical anthropologists and Chinese archaeologists of the Cotsen Institute of Archaeology. I completed an undergraduate thesis that developed alternate light source imaging techniques for detecting tattooing on mummified remains and formulated a project centered on studying the skeletal remains of human sacrifice victims from Shang Dynasty China. After graduation, I worked as a research assistant focused on the "evolution of religion and morality" in Vanuatu at the Department of Psychology, University of Auckland. I have done archaeological fieldwork in the Chincha Valley, Peru, and Yangguanzhai, China. At ISAW, I plan to study structural violence, inequality, state formation, ancient health, bioarchaeology, and paleopathology.

Fanghan Wang
I received my BA in Art History from China Central Academy of Fine Arts, where I studied stone reliefs of the Han Dynasty as my primary area of focus. Later, I continued my studies at China Central Academy of Fine Arts and received my MA in Cultural Heritage and Art Archaeology. My MA thesis focused on how the concept of "stone sculpture" is framed within the system of modern art in China, from the end of the 19th century to the 1950s. At ISAW, I would like to expand my research into the interactive relationships between ancient Chinese and the foreigners living around China with an emphasis on art history and archaeology, drawing upon my academic background in art historical studies.
Visiting Research Scholars Alumni News

Gilles Bransbourg, Research Associate, VRS 2010-11, was named a "Chevalier dans l'Ordre des Palmes Académiques" by decree of the French Prime Minister.

Claire Bubb, VRS 2014-15, was appointed Faculty Fellow in the NYU Classics Department for the 2015-16 academic year.

Maria Doerfler, VRS 2014-15, was appointed Director of the Center for Late Ancient Studies at Duke University and the University of North Carolina, Chapel Hill.

Hallie Franks, VRS 2012-13, was promoted to Associate Professor of Ancient Studies with tenure at NYU's Gallatin School of Individualized Study. Additionally, she was awarded a National Endowment for the Humanities fellowship to conduct research at the American School of Classical Studies in Athens on her current book project, Mosaics and Movement in the Greek Andron.

Jinyu Liu, VRS 2007-2008, co-organized the Dickinson College Commentaries (DCC) Seminar in June 2015, in collaboration with Christopher Francese and Marc Mastrangelo, both Professors of Classical Studies at Dickinson College. The concrete results of the seminar were searchable, open-access Latin-Chinese and Greek- Chinese core vocabulary lexica. The DCC Seminar was part of a series of Classics events that Jinyu Liu organized during with support from the SHNU Guangqi International Center for Scholars.

Rita Lucarelli, VRS 2011-12, was awarded a Collaborative Research Grant by Digital Humanities at Berkeley for a project entitled "The Book of the Dead in 3D: Mapping Texts and Images on Ancient Egyptian Objects."

Perrine Pilette, VRS 2014-15, was appointed "Chargée de Recherches" at the Fonds National de la Recherche Scientifique (F.R.S.-FNRS) and the Université Catholique de Louvain in Louvain-la-Neuve.

Christine Proust, VRS 2009-10, was honored as "Chevalier de la Légion d'Honneur."

J. Nicholas Reid, VRS 2014-15, was appointed Professor of Old Testament at Reformation Bible College in Sanford, Florida.

Francesca Rochberg, VRS 2013-14, was awarded a fellowship for the spring of 2016 from the Excellence Cluster Topoi in Berlin to work on a project to explore the representation of empirical phenomena in Babylonian astronomical models as evidence for scientific model making and for thinking about the world with models.

H. Darrel Rutkin, VRS 2009-10, was appointed Associate Lecturer in the History of Science in the Unit for History and Philosophy of Science at the University of Sydney, Australia.

Mantha Zarmakoupi, VRS 2009-10, was appointed external research associate in the Section of Greek & Roman Antiquity of the Institute of Historical Research of the National Hellenic Research Foundation. In addition, she initiated an underwater fieldwork project in Delos as part of her research regarding the city planning of Delos (Cyclades, Greece) during the Late Hellenistic period, a collaboration between the National Hellenic Research Foundation and the Ephorate of Underwater Antiquities.
Visiting Student Feature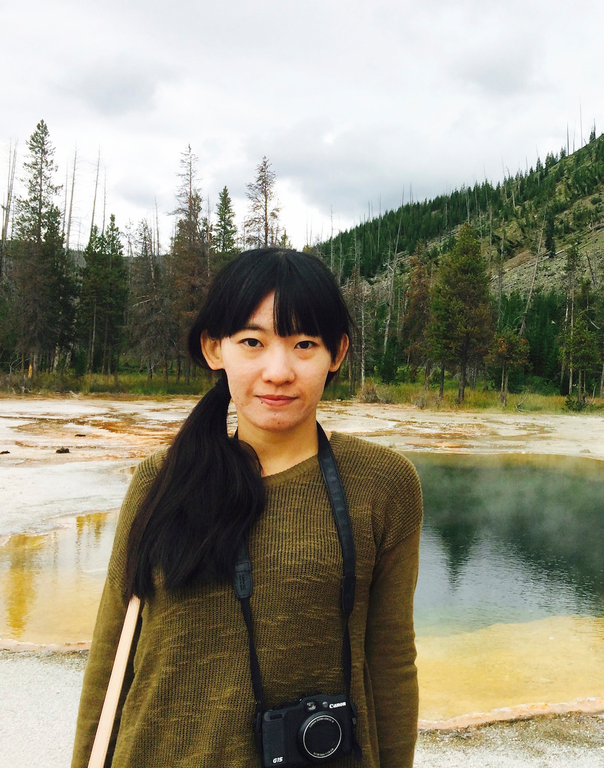 Photo courtesy of Wei Yu From January 2014 through January 2015, Wei Yu, a PhD candidate at the National Institute for Advanced Humanistic Studies of Fudan University in Shanghai, China, was a visiting student at ISAW. Reflecting on her 12 months in New York, Wei notes that her experience at ISAW "expanded my vision and offered me the opportunity to learn from international scholars through classes, lectures, seminars, and visits to wonderful museums in New York City." One of the highlights of Wei's experience at ISAW was working closely with Associate Professor Lillian Tseng and Assistant Professor Sören Stark. Prof. Tseng's "thought-provoking questions and suggestions" provided Wei with insights that led her to view her dissertation "from a new perspective." Prof. Stark helped guide Wei through one of the most difficult aspects of her research, the component dealing with Central Asia. Wei's research also benefited from the "excellent Chinese collection and services" of the ISAW Library, where she was able to gain access to a number of books that were not available to her at her home university in China. Wei expects to complete her dissertation, entitled "Buddhist Reliquaries in Sui and Tang Dynasty," in December 2015.