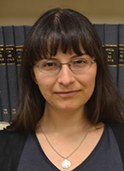 Gina Konstantopoulos
Visiting Assistant Professor 2015-17
Gina Konstantopoulos holds a PhD in Ancient Near Eastern Studies from the University of Michigan (2015), where she also received her MA, and a BA in Asian Studies from Mount Holyoke College (2007). She is a two-year Visiting Assistant Professor at ISAW. Her doctoral dissertation, "They are Seven: Demons and Monsters in the Mesopotamian Textual and Artistic Tradition," examines the place of a particular group of demons, the Sebettu or the Seven, over the course of their attestations in Mesopotamia, set against the larger framework provided by comparative demonology. Her Assyriological work centers philologically on Sumerian, with a focus on literary and incantation texts, as well as the themes of religion and magic.
While at ISAW, she will work to further develop and revise her dissertation for publication, as well as embarking on a major research project. Connected to the themes of her dissertation, this project examines the creation of fictional and imaginary spaces in the Ancient Near East, and the abstraction of real, but distant, lands. This topic is considered through a comparison of the presence of these locations in literary texts as well as a range of economic documents, and further rooted in broader interdisciplinary work concerning the creation of fictional lands and utopian studies from a number of fields.
Prior to her appointment, Gina was awarded a Sylvan C. Coleman and Pamela Coleman Memorial Fund Fellowship to support a year of research at the Metropolitan Museum of Art (2014-15), and a DAAD graduate student fellowship for a year of research and study at Julius-Maximilians-Universität Würzburg (2012-13). Further support facilitated a summer internship (2012) photographing tablets for the Ashurbanipal Library Project at the British Museum. She has presented on topics such as the role of demons in Mesopotamian incantation texts, the invocation of gods on behalf of the king in Sumerian royal hymns, and the astral representation of divine figures in Mesopotamia, and is currently preparing several of these topics for publication.