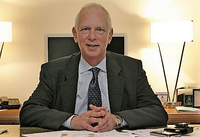 Edward Cohen
Member, Director's Council
Edward E. Cohen is an economic historian specializing in the economy and society of Classical Athens and of Imperial Rome.  He is the author of many articles and books on Athens, including Ancient Athenian Maritime Courts; Athenian Economy and Society: A Banking Perspective; The Athenian Nation; and most recently Athenian Prostitution: The Business of Sex (Oxford 2015).  He is presently preparing for publicationRoman Economy and Society: Slaves'  Perspective.  Since 1995, he has been Professor of Classics and Ancient History (Adjunct) at the University of Pennsylvania.  
Dr. Cohen's economic interests led him into business activities, where he has headed major enterprises in energy, real estate and banking.  In 2011, he was honored with the prestigious Hart Publications' award as the year's outstanding oil and gas executive in North America.  He is a lawyer admitted to practice in Pennsylvania and in the District of Columbia.  
Dr. Cohen holds earned doctorates in ancient history (Princeton) and in law (Penn), as well as a doctorate in economics (honorary) from Panteios University of Athens, Greece.