Time and Cosmos in Greco-Roman Antiquity
October 19, 2016 - April 23, 2017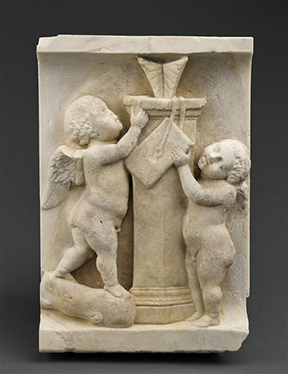 The Ancient Greeks and Romans contributed more than any other past civilization to the rise of time's dominion over individual and public life. Adapting ideas from Egypt and Babylonia, they divided the day into hours, and invented sophisticated instruments and devices to mark their passage. This exhibition aims to explore the ways that time was organized and kept track of in the Greco-Roman world, and how it was conceived in relation to the Cosmos. The objects displayed include artifacts illustrating the technology of ancient time-reckoning and the perception, visualization, and social role of time and cosmos, and also highlights the contrasting formative roles of indigenous Greek and Roman cultural practices and contact with the civilizations of Mesopotamia and Egypt as well as the peoples of northwest Europe. 

Time and Cosmos presents over 100 objects, including ancient sundials, calendars, jewelry, and surveying instruments, and is organized around two themes: the Tools of Time Reckoning, exploring the material resources that gave temporal structure to the daily life of private individuals as well as the community in such public spheres as religion, commerce, and law; and Reflections of Time and Cosmos, concerning ancient representations of time, the universe, and their power to shape the environment and human destiny.

Time and Cosmos in Greco-Roman Antiquity is now on view and runs through April 23, 2017. The exhibition is open Wednesday to Sunday from 11 to 6 pm with a late closure at 8 pm on Fridays. A free guided tour is offered each Friday starting at 6 pm.

This exhibition and its accompanying catalogue have been generously supported by the Stavros Niarchos Foundation, the Arete Foundation, a private donor, the Selz Foundation, an anonymous foundation, The Achelis and Bodman Foundation, Louise Hirschfeld Cullman and Lewis B. Cullman, the Alfred P. Sloan Foundation, and the Leon Levy Foundation. Additional funding provided by Frances Marzio, The Tianaderrah Foundation and Furthermore: a program of the J. M. Kaplan Fund.
Image:
Frieze from a Roman Sarcophagus
ca. 140-160 CE
H. 34.5 cm; L. 23.5 cm; D. 6.5 cm
Marble
Musée du Louvre, MA1341
Photo © RMN-Grand Palais (musée du Louvre) / Stéphane Maréchalle