Catalogue
Restoring the Minoans: Elizabeth Price and Sir Arthur Evans
Edited by Jennifer Y. Chi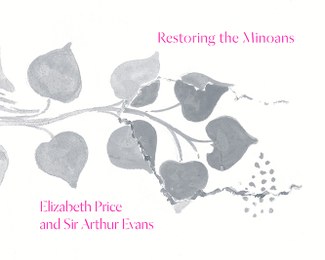 How do artists and archaeologists recover long-silent civilizations and make them meaningful for us today? How do contemporary conditions influence the way we understand the ancient past? This innovative book considers two imaginative restorations of the ancient world that test the boundaries of interpretation and invention by bringing together the work of the Turner Prize–winning video artist Elizabeth Price (b. 1966) with the discovery of Minoan culture by the British archaeologist Sir Arthur Evans (1851–1941).
Featured essays examine Evans's interpretation and restoration of the Knossos palace and present fresh photography of Minoan artifacts and archival photographs of the dig alongside beautiful, previously unpublished watercolors and drawings by the archaeological illustrators and restorers who worked on the site: Émile Gilliéron père (1850–1924), Émile Gilliéron fils (1885–1939), Piet de Jong (1887–1967), and others. An interview with Price explores how her attraction to the Sir Arthur Evans Archive became the basis for her commissioned video installation at the University of Oxford's Ashmolean and Pitt Rivers Museums and offers insight into her creative practice.
With contributions by Jennifer Y. Chi, Rachel Herschman, and Kenneth Lapatin.
Published by the Institute for the Study of the Ancient World and distributed by Princeton University Press, it is available for $35.00 at the ISAW Gallery Shop and on the Princeton University Press website.