Restoring the Minoans: Elizabeth Price and Sir Arthur Evans
October 5, 2017 – January 7, 2018  (Closed)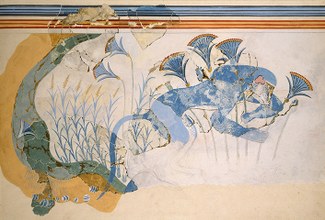 The British archaeologist Sir Arthur Evans (1851-1941) fundamentally shaped our understanding of the Minoan world. He excavated the so-called Palace of Minos on the island of Crete and came to believe he had found the remnants of Daidalos's mythological labyrinth, home to the Minotaur. As the first person to recognize the distinctiveness of the Minoans, his contribution to archaeology cannot be underestimated, yet his bold restoration of the site at Knossos confronts viewers with images of an ancient world that appear distinctively modern. Art Nouveau-styled women and reinforced concrete structures invite questions about the archaeologist's boundaries between interpretation and speculation.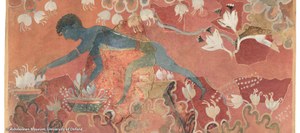 Evans's reconstructions, both physical and intellectual, aimed to make whole the scattered fragments of a ruined, prehistoric culture, whose ancient scripts Evans recognized but was unable to decipher. In the aftermath of the bloody massacres leading up to Cretan independence, and on either side of the carnage of World War I, Evans combined evidence from later Greek myths with parallels from ancient Near Eastern and Egyptian civilizations to fashion Minoan Crete, which he declared to be the home of Europe's earliest civilization, as a place of beauty, grace, and transcendence a peaceful, matriarchal paradise in harmony with nature, overseen by a Great Mother Goddess.
When the Turner Prize-winning artist Elizabeth Price (British, b. 1966) was commissioned to create a new artwork based on the collections of the Ashmolean and Pitt Rivers Museums, she was drawn to the modern watercolors and photographs in the Sir Arthur Evans Archive. Her video installation takes creative license with the museums' archives in response to Evans's blurred boundaries between artifact, restoration, and invention. A RESTORATION reinterprets Evans's images from his archaeological excavation by layering them with rhythmic electronic music and synthetically voiced narrators to drive a new story that is as much about the past as it is about the future.

Presenting artifacts from Minoan Crete and archival materials from the Sir Arthur Evans Archive together with Elizabeth Price's video installation, this exhibition explored the relationship between restoration and art. How do archaeologists and artists recover long-silent civilizations and make them meaningful for us today? How do contemporary conditions influence the way we understand the past? Restoring the Minoans presented the dynamics between recovery and creation using a work of contemporary video art as a lens on the ancient past.
Image 1:
Émile Gilliéron, fils
Blue Monkey and Papyrus
Watercolor on paper
H. 45 cm; W. 66 cm
After a fresco from the House of the Frescoes, Knossos
Sir Arthur Evans Archive, Evans Fresco Drawing A/8
Ashmolean Museum, University of Oxford
Image 2:
Unidentified Artist
Saffron Gatherer Restoration
Watercolor on paper
H. 27 cm; W. 47.5 cm
After a fresco from Area of Early Keep, Knossos
ca. 1921
The Ashmolean Museum, University of Oxford, Bequeathed by Sir Arthur Evans: Evans Fresco Drawing L/3