Introduction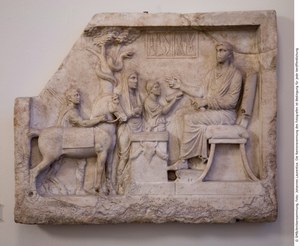 ISAW is pleased to present its first digital exhibition, The Empire's Physician: Prosperity, Plague, and Healing in Ancient Rome. Presenting the life of the influential Roman doctor Galen (129­–ca. 216 CE), this richly-illustrated, interactive online exhibition contextualizes the doctor's biography within the ancient medical landscape as well as within his broader historical situation. A learned, accomplished physician, he treated a range of patients—men and women, adults and children, peasants and emperors—afflicted with a variety of conditions. Additionally, he described the several crises of his day, including the Great Fire and the Antonine Plague. Galen's prolific writings provide not only an account of the ancient healing arts and attendant debates, but also a broader sense of life in the Roman Empire.

The Empire's Physician gives visitors a chance to explore many different dimensions of this wide-ranging healer and thinker as well as diverse patient perspectives through personal narratives, historical descriptions, object histories, manuscripts, illuminations, anatomical illustrations, diagrams, architectural recreations, and more, in a scholarly-yet-accessible style.
***
The Empire's Physician: Prosperity, Plague, and Healing in Ancient Rome is made possible by generous support from the Stavros Niarchos Foundation (SNF) and the Leon Levy Foundation. Additional support provided by Dr. Angelo D. Reppucci.
Image: Grave or votive relief representing a heroized doctor, near the doctor's head is an open box or cabinet with surgical instruments. Marble, Roman, 1st century BCE–1st century CE, probably created in the Peloponnese, Greece. H. 67 cm; W. 83 cm; D. 7.5 cm. Antikensammlung der Staatlichen Museen zu Berlin - Preußischer Kulturbesitz: SK 804