Future Exhibitions
 Coming in fall 2022
Ritual and Memory: The Ancient Balkans and Beyond
September 21, 2022–February 19, 2023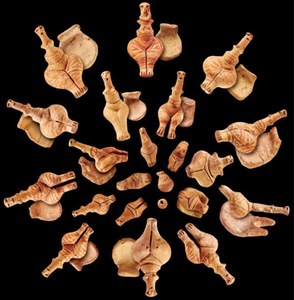 Featuring loans from eleven different countries, Ritual and Memory presents an exciting opportunity for audiences to experience archaeological artifacts from the region that stretches from the Balkan Mountains through the Carpathian Basin. Although many American museums have entire galleries filled with works from the Greeks, Romans, Egyptians, and the ancient Near and Far East, as well as from other cultures, artifacts from ancient southeastern Europe are unfamiliar and rarely exhibited. Yet these stunning works—some from Europe's earliest settled farming communities—are a revelation: mother goddess–style figurines, weapons, miniature architectural models, elegant pottery, adornments in gold and amber, and more, all reveal great artistic and technological accomplishment and suggest the ritual practices of enigmatic cultures. Presenting more than two hundred artifacts from the Neolithic Era through the Iron Age, the Institute for the Study of the Ancient World invites visitors to consider beliefs, ritual practices, and community organization in these long-silent civilizations, and to explore a much broader view of the interconnectedness of ancient cultures than can be understood through conventional narratives of antiquity.
This exhibition is organized in partnership with the Field Museum and has been made possible in part by a major grant from the National Endowment for the Humanities: Democracy demands wisdom.
Ritual and Memory at the Institute for the Study of the Ancient World is made possible by generous support from the Leon Levy Foundation.
Image 1:
Female figurines and model chairs, 4900–4750 BCE, ceramic, Poduri-Dealul Ghindaru, Romania, figurines (21): height: 3.4–8.7 cm, width: 1.5–4.7 cm; chairs (13): height: 1.5–3.3 cm, width: 1.8–4.5 cm; clay ball: diameter: 0.9 cm. Neamţ County Museum Complex, Piatra Neamţ, Romania: 10095–10113, 10115–10128, 10691; 10703


 Check back for more news soon!