Future Exhibitions
Spring 2019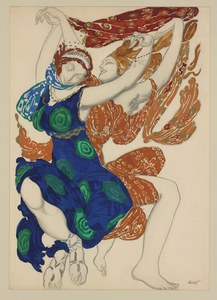 Hymn to Apollo: The Ancient World and the Ballets Russes
March 6–June 2, 2019
What can we know about ancient dance? Why did European avant-garde artists look to antiquity at the beginning of the twentieth century? With an array of ancient representations of dance, Hymn to Apollo: The Ancient World and the Ballet Russes explores both the role of dance in ancient culture and the influence of antiquity on the modernist reinventions of the Ballets Russes, the ground-breaking dance company founded in Paris by Sergei Diaghilev.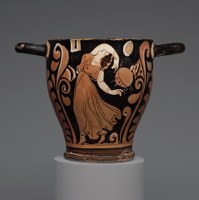 With about 100 works, including outstanding examples of ancient pottery, sculpture, and metalwork, as well as watercolors, sketchbooks, photographs, costumes, and other archival material from the Ballets Russes, this exhibition—the first on the topic—reveals a rich, multifaceted dialogue between the ancient and the modern. More than a simple story of the reception of antiquity by artists in the twentieth century, Hymn to Apollo shows how artists returned to antiquity not as benighted traditionalists but as radical revolutionaries, intent on creating something new.
Image 1:
Léon Bakst
Two Costume Designs, for Narcisse
ca. 1911
Watercolor and graphite on paper
H. 66.6 cm; W. 48.2 cm
New York Public Library, Jerome Robbins Dance Division, Gift of Mrs. Arthur A. Houghton, Jr.: *MGZGC Bak L Nar 1
Image courtesy of the New York Public Library
Image 2: 
Attributed to the Frignano Painter
Skyphos with a Dancing Maenad
Late Classical, 375–350 BCE
Terracotta
Campania, Italy
H. 16.5 cm; W. 15 cm
Harvard Art Museums/Arthur M. Sackler Museum, Gift of Dr. Harris Kennedy, Class of 1894: 1932.56.39
Photo: Imaging Department © President and Fellows of Harvard College
Fall 2019
Check back for updates about our next planned show!

Like us on Facebook to get behind-the-scenes information about our exhibitions