Excavations at Amheida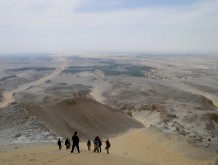 The Amheida project was started at Columbia University in 2001. Since 2008 New York University has been the primary sponsoring institution, with Columbia University continuing as a partner in the project. In 2022 Washington University in St. Louis became a collaborating institution.
The excavations at Amheida collaborate with other participating groups in the Dakhleh Oasis Project, an international venture about to enter its fifth decade dedicated to studying the interaction between human settlement and the environment over the long span from the earliest human presence in the oasis to modern times. Amheida itself has remains spanning nearly three millennia, and paleolithic material is found along its fringes.
The excavations so far have focused on four areas of this very large site: a centrally located upper-class fourth-century AD house with wall paintings, an adjoining school, and underlying remains of a Roman bath complex; a more modest house of the third century; the temple hill, with remains of the Temple of Thoth built in the first century AD and of earlier structures; and most recently a fourth-century funerary church.
Architectural conservation has protected and partly restored two standing funerary monuments, a mud-brick pyramid and a tower tomb, both of the Roman period. A recreation of the fourth-century house has been built near the site entrance as a future visitor center, and a protective enclosure for the decorated blocks from the temple has been built with support from the American Research Center in Egypt.
In 2022, the leadership of the project passed from Prof. Roger Bagnall as director and Prof. Paola Davoli as archaeological director to Dr. David M. Ratzan (ISAW/NYU, director) and Prof. Nicola Aravecchia (Washginton University in St. Louis, archaeological director).
We invite you to follow our work:
Twitter @AmheidaProject
Instagram @amheida.project
The project director, David M. Ratzan, can be reached at:
Institute for the Study of the Ancient World
New York University
15 East 84th Street
New York, NY 10028

Telephone: (212) 992-7832
Fax: (212) 992-7809
Email: david.ratzan@nyu.edu