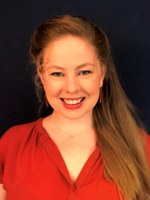 Catherine Klesner
Visiting Assistant Professor 2021-22 & Fall 2022
Catherine Klesner is a Visiting Assistant Professor at NYU's Institute for the Study of the Ancient World. She received her Ph.D. (2021) and M.S. (2017) from the University of Arizona in Materials Science and Engineering with a minor in Anthropology, and her B.A. in Anthropology and Chemistry from Grinnell College (2011). Having a background in both the sciences and social sciences, she approaches the study of archaeology from the perspective of archaeological science, and studies artifacts using modern, analytical instrumentation. Her research focuses on reverse engineering ancient ceramic technology, and how technological knowledge was transmitted, adopted, and adapted in the past. Her publications include research on wide variety of materials including ceramics, lithics, and rock art from across the Americas, Asia, and Europe.
In her dissertation, she studied early lead-glazed ceramics from 9-12th c. CE Silk Road cities in what is today southern Kazakhstan. This region, which sat on the edge of the Islamic world in the period, had no glazing traditions before the introduction of Islamic style lead-glazed wares in the 8th - 9th c. CE. Examining these early glazed ceramics by compositional, isotopic, and microscopic analysis revealed not only the physical trade networks in place in northern Central Asia during the Medieval Period, but also how distinctive Islamic technologies were transmitted and adapted into the region.
While at ISAW, Catherine will build on her previous work on early lead-glazed ceramics from Central Asia and the Mediterranean to help reconstruct past knowledge and technological networks. She hopes to continue her interdisciplinary research on ceramic technologies as well as investigating the interconnected nature of craft production in the early Medieval Period.