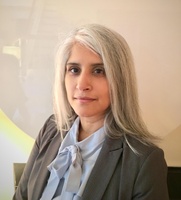 Divya Kumar-Dumas
Visiting Research Scholar 2021-22
Divya Kumar-Dumas is a historian of art and architecture who specializes in the designed landscapes of first millennium South Asia attested in archaeology and text. Influenced by methods from studies of word and image, gardens and landscapes, landscape and garden archaeology, cultural and oral history, and folk and traditional arts, she treats landscapes as conceptually driven architectural projects of the past and invitations to experience a place over its long, layered afterlife. She finds this phenomenon of 'place-ness' key to reading cultural and design histories in the early landscape. She holds a BA in History from Yale University, an MA in Landscape Design from George Washington University, and a PhD in South Asia Studies from the University of Pennsylvania with a dissertation about two well-known archaeological sites read as designed landscapes from their visitor records and archaeological traces.
At ISAW, Divya will begin to unpack typologies for first-millennium Southern Asian ports with digital tools. She aims to understand attested ports as artifact distributions on geological and topographical landforms used by humans. Although this work builds from previous research on the coastal site of Mamallapuram, India, it represents a new interest in the relationship of known places and things to Indian Ocean networks, trade, and movement. Related projects include "Indian Ocean Figures that Sailed Away," an online series held at ISAW about a range of first-millennium archaeological finds of South Asian manufacture excavated far from the subcontinent.
Key publications:
Kumar-Dumas, D. 2022. "Reading Architecture in Landscape: Visitor Reflections at a Mirror Wall (Sigiriya, Sri Lanka)." In Art, Architecture, and the Moving Viewer, c. 300-1500 CE: Unfolding Narratives, edited by G. Elliott and A. Heath, 150-84. Leiden: Brill.
Kumar-Dumas, D. 2022. "Plants in Culture: A Meaning-Laden Living World in Early South Asia." In A Cultural History of Plants, vol. 2, edited by A. Touwaide, A. Giesecke, and D. Mabberley, 119-44. London: Bloomsbury.
Kumar-Dumas, D. 2018. "Sigiriya: An Early Designed Landscape in Sri Lanka," Orientations 49:1.