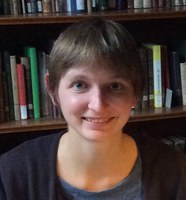 Maya Maskarinec
Visiting Research Scholar 2016-17
Maya Maskarinec is a historian of late antique/early medieval Europe and the Mediterranean, with an emphasis on the city of Rome as an interlocutor across geographical, cultural and chronological divides. She holds a Ph.D. and M.A. in Medieval History from the University of California, Los Angeles (2015/2011) and a A.B. in Classics from Princeton University (2007).
At ISAW she will be completing her first book, Building Rome Saint by Saint (6th-9th c.). This study examines how saints' cults from throughout the Mediterranean transformed early medieval Rome into a city filled with a seemingly inexhaustible reservoir of sanctity. Concurrently, she is embarking on her next project, which addresses the persistent critique of late antique/early medieval Rome as a city too burdened by its monumental imperial past and worldly distractions to be a sacred city.
She is also interested in historiography and Roman identity in the early Middle Ages and the reception history of hagiographical texts. Her publications include "The Carolingian Afterlife of the Damasan Inscriptions," Early Medieval Europe 23.2 (2015); and "Who were the Romans? Shifting Scripts of Romanness in Early Medieval Italy," in Post-Roman Transitions. Christian and Barbarian Identities in the Early Medieval West, edited by W. Pohl and G. Heydemann (2013). Her work has been supported by a Fulbright Fellowship to Austria (2007-08), the American Academy in Rome's Phyllis G. Gordan Pre-Doctoral Rome Prize (2013-14), and a Mellon/ACLS Dissertation Completion Fellowship (2014-15).