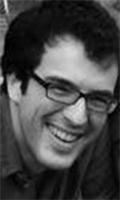 Frederic Clark
Visiting Assistant Professor 2015-17
Frederic Clark is Visiting Assistant Professor at the Institute for the Study of the Ancient World at NYU. He received his PhD in History from Princeton University (2014), his BA in History and Literature from Harvard University (2008), and an MPhil in Medieval History from the University of Cambridge (2009).
Clark's research examines the cultural and intellectual history of medieval and early modern Europe, with particular focus on how visions of the ancient past were received and appropriated from the early Middle Ages to the Enlightenment. His specific areas of interest include the history of the book and reading, the afterlife of Latin literature, and the history of historical thought.
He is currently at work on two book projects. The first, based on his dissertation, is titled Dividing Time: The Making of Historical Periodization in Early Modern Europe. Dividing Time examines how early modern scholars began to separate the past into three distinct ancient, medieval, and modern phases—thereby canonizing a narrative of antiquity's end and modernity's origins whose paradoxes still inform historical debates today. His second book project, under contract with Oxford University Press, is titled The First Pagan Historian: The Fortunes of a Fraud from Antiquity to Enlightenment. This book explores shifting notions of authorship and authenticity by tracing the 1500-year reception of Dares Phrygius' spurious history of the Trojan War.
Prior to joining NYU, Clark was a Mellon postdoctoral fellow at Stanford University, where he taught courses on book history and the Scientific Revolution. His articles have appeared in Viator and the Journal of the History of Ideas, and he is currently co-editing a volume of interviews with intellectual historians, titled The New History of Traditions, which will appear from the University of Chicago Press. He co-curated the exhibition "Readers Make Their Mark" at the New York Society Library. In Fall 2015 he is teaching a seminar at NYU Gallatin on the theme "Ancients vs. Moderns."