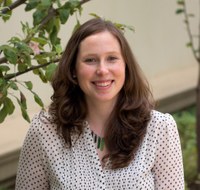 Emily Cole
Visiting Assistant Professor 2016-18
Emily Cole is Visiting Assistant Professor at the Institute for the Study of the Ancient World at NYU. She received her PhD and MA in Near Eastern Languages and Cultures from the University of California, Los Angeles (2015), and her BA in Oriental Studies from the University of Oxford (2007).
Cole studies the social and cultural history of Greek and Roman period Egypt, specializing in how religious, political, and demographic change affected individual and societal language use throughout Egyptian history. Her particular areas of interest include translation studies, the transmission of text and knowledge, and the history of communication.
Her first project is an adaptation of her doctoral dissertation, Interpretation and Authority: the Social Functions of Translation in Ancient Egypt, in which she examines how translation developed in Egypt, and how multilingual texts performed as objects of social display. In shifting the focus from Western traditions, she demonstrates that translation in Egypt was a tool of textual commentary that later provided political and religious authority to Egyptians living under Greek and Roman rule. Cole's next project investigates multilingual texts on monuments of public display from Ptolemaic and Roman Egypt. She is assessing how objects were inscribed with texts and image to communicate more than one message to a broad multicultural and mostly illiterate audience. She adopts a holistic approach in this work that that considers the various languages employed, the physical context of the artifacts, and the range of textual genres on display. This inquiry contributes to an understanding of the transformations taking place in the Mediterranean by exploring the range of cultural associations connected to the creation of monumental objects.
Prior to joining NYU, Cole was a lecturer in Near Eastern Languages and Cultures at UCLA, where she taught courses in Egyptian language and history. In 2013-14 she held the Bancroft Library Study Award and worked at the Center for the Tebtunis Papyri at the University of California, Berkeley, and she participated in the 2011 Papyrological Summer Institute in Provo, Utah. She also co-directs archaeological work in Egypt with the UCLA Fayum Project, where she is investigating the village site of Qarah el-Hamra.