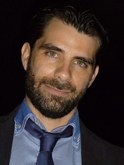 Juan Manuel Tebes
Visiting Research Scholar, Summer 2015
Juan Manuel Tebes is a Near Eastern historian with areas of specialization in the history and archaeology of the Iron Age southern Levant and northwestern Arabia. He is Director of the Center of Studies of Ancient Near Eastern History at Catholic University of Argentina, and Editor-in-Chief of its scholarly journal Antiguo Oriente. Tebes currently teaches at the Catholic University of Argentina and the University of Buenos Aires; he is also researcher at the National Research Council of Argentina. He received his MA from Pennsylvania State University (2009) and his PhD from the University of Buenos Aires (2010). 

Tebes has been research fellow at several institutions, including the W. F. Albright Institute of Archaeological Research (Jerusalem), the American Center of Oriental Research (Amman), the Maison de l'Archéologie et de l'Ethnologie (Paris), and the University of Sydney. Twice a Fulbrighter and once a Fernand Braudel fellow, Tebes was awarded the "Sean W. Dever Memorial Prize" by the Albright Institute for the best published article in Syro-Palestinian or biblical archaeology. He has published, most recently, the books Nomads at the Crossroads (Archaeopress, 2013) and Unearthing the Wilderness (Peeters, 2014).

During his time at ISAW, Tebes studied the human and animal (especially the avian) iconography in the pottery, rock-art and reliefs of Northeastern Africa and Northwestern Arabia during the Late Bronze and Iron Ages. Particular attention was paid to their social and symbolic meaning, particularly in relation with the socio-economic background of the tribal societies settling and moving around the area at this time, and the influence that the changing conditions of the Mediterranean world-system had on them.