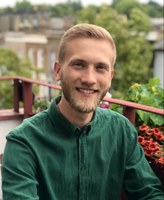 Dominic Pollard
Visiting Assistant Professor 2022-24
Dominic Pollard is a Visiting Assistant Professor at the Institute for the Study of the Ancient World. He holds a BA in Archaeology and Anthropology from the University of Oxford (2015), and an MA in Mediterranean Archaeology from University College London (2017), where he also received his PhD (2022). His work is particularly concerned with the relationships between human societies and the landscapes they inhabit, as well as the forms of mobility and interaction which connect communities across different regions. He has conducted fieldwork in England, Italy and Greece.
His doctoral dissertation investigated landscapes of settlement, subsistence and mortuary practice on Late Bronze to Early Archaic Crete. The approach adopted was aimed at the integration of spatial and quantitative data and methods with wide-ranging historical synthesis, so as to trace long-term developments in the modes and scales of interaction operating between Cretan communities across this timeframe. In doing so, this research sought to bring two periods typically studied quite separately within a single analytical and interpretive framework.
His current project at NYU expands the focus of his doctoral dissertation to a comparative study of the islands of Crete, Cyprus and Sardinia across the Late Bronze Age and Early Iron Age. The late second and mid-first millennia BCE represent two high points in the interconnectedness of the Mediterranean, characterised by long-distance maritime trading networks, interregional mobility, and the growth and consolidation of urban, literate, state societies alongside various other, differently constituted social forms. Despite (or because of) their unique histories, these islands offer an invaluable perspective on the local manifestations and variations of these broader processes. Drawing on work examining connectivity and insularity, and the social construction of cultural, ideological, and ethnic identities, this study will ultimately explore a subject with great relevance to our own time, that of divergent local responses to an ever more connected world.
While at ISAW, he will also be working on making the spatial and quantitative databases from his doctoral research available online.
Key publications:
Pollard, D. 2021. "All Equal in the Presence of Death?: A Quantitative Analysis of the Early Iron Age Cemeteries of Knossos, Crete." Journal of Anthropological Archaeology 63: 103320.
Pollard, D. 2022. "An Icarus' Eye View? GIS Approaches to the Human Landscape of Early Iron Age Crete." In: Doğan, E. et al. Diversity in Archaeology Proceedings of the Cambridge Annual Student Archaeology Conference 2020/2021: 319-39. Oxford: Archaeopress.