Head of a Ptolemaic King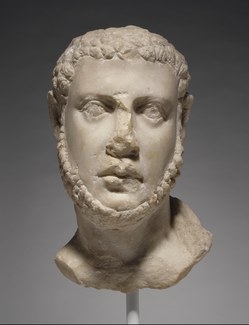 Head of a Ptolemaic King
Marble; 

H. 33.8 cm; W. 18.7 cm; D. 17.5 cm
Alexandria; 

2nd century BCE
Gift of Stefan Hornak; 

The J. Paul Getty Museum: 83.AA.330
© The J. Paul Getty Museum, Villa Collection, Malibu, California, Gift of Stefan Hornak
This head of a Ptolemaic king was originally part of a draped statue, as a square-cut hole on the underside of the neck and traces of drapery on the left shoulder indicate. The top and back of the head were added separately in stucco, a practice common in Egyptian sculptures from the Ptolemaic period, as marble had to be imported and was therefore not readily available. The head may thus have been imported from Greece or Asia Minor, with the hair and the back of the head added in Egypt.
The portrait reproduces the features of a man with a broad square head, a long face, and a prominent mouth with an accentuated dip beneath the lower lip. The head is also characterized by an under-chin beard and by short hair cut square across the forehead.
The lack of an inscription identifying the king as well as the nonspecific physiognomic features, which are characteristic of most Ptolemies of the late period, have prevented the many scholars studying the head for the last forty years to propose a definite identification. Nevertheless, parallels with Ptolemaic portraits on coinage indicate that the defining features are consistent with images of Ptolemy IX or Ptolemy X.
Although the piece was acquired in 1983, it has been well published in both museum and academic journals and known to the scholarly community since the 1970s.
H. Jucker. Marmorporträts aus dem römischen Ägypten. In: G. Grimm, H. Heinen, E. Winter eds. Das römisch-byzantinische Ägypten. Akten des internationalen Symposions, September 26-30, 1978. Trier, 1983. 140-141, pl. 6.1-6.2.
R.R.R. Smith. Three Hellenistic Rulers at the Getty. The J. Paul Getty Museum Journal, Vol. 14, 1986. 70-78, no. 3.