Head of Ptolemy VIII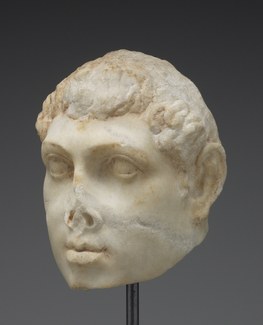 Head of Ptolemy VIII
Marble; H. 23.5 cm
Egypt; ca. 150 BCE
Anonymous Loan
While this head's features are finely finished and polished, the hair, back, and broad royal diadem were roughly carved to be finished in stucco. Coin types with similar profiles characterized by a large and square head, a curved nose, and a broad mouth identify the sculpture with Ptolemy VIII or one of his two sons, Ptolemy IX and Ptolemy X.
P. E. Stanwick. Portraits of the Ptolemies: Greek Kings as Egyptian Pharaohs. Austin: University of Texas Press, 2002. 58, 72-73, figs. 258-259.
R. R. R. Smith. "Ptolemaic Portraits: Alexandrian Types, Egyptian Versions." In Alexandria and Alexandrianism, 203–14. Papers delivered at a symposium organized by the J. Paul Getty Museum and the Getty Center for the History of Art and the Humanities and held at the Museum, April 22–25, 1993. Malibu, CA: J. Paul Getty Museum, 1996.