Relief Plaque Depicting a God or a King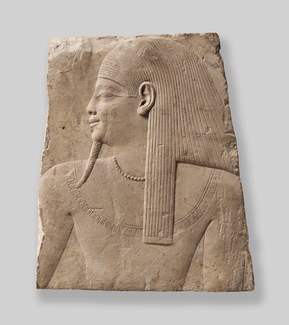 Relief Plaque Depicting a King or God
Limestone; H. 29.5 cm; W. 25.4 cm; D. 2.5 cm
Egypt; 305–30 BCE
Museum Purchase Fund; Art Institute of Chicago: 1920.257
© Courtesy of the Art Institute of Chicago
The function of this plaque is uncertain: like all other sculptor's models in this exhibition, it has been interpreted as a votive object for sanctuaries, or as practice piece for apprentices.
The subject matter appears straightforward but is in fact ambiguous: the man is dressed in the traditional belted skirt and wears a fake beard, an attribute that is most commonly associated with divinity. However, egyptianizing images of the Ptolemies show similar beards: is the viewer looking at a king or a god?
The ambiguity that characterizes the plaque suggests that the difficulty in understanding its iconographic motifs is not the result of our imperfect knowledge but perhaps the conscious choice by the artists and their patrons. Thus, this image could have very well baffled the ancient viewer as much as continues to puzzle the modern one.
Allen, Thomas George. A Handbook of The Egyptian Collection. Chicago: The Art Institute of Chicago, 1923, p. 44 (ill.), 45.