Shroud of a Woman Wearing a Fringed Tunic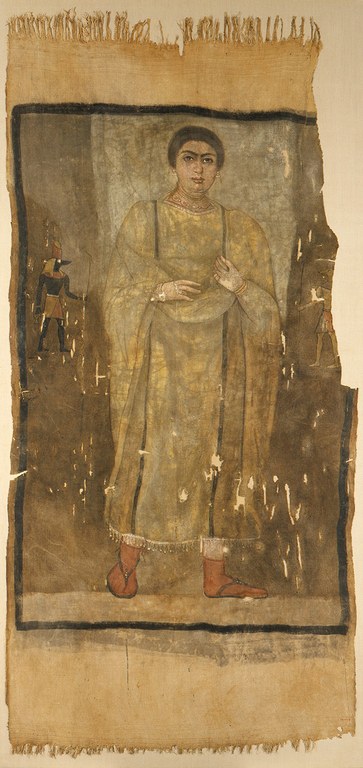 Paint (probably tempera), plain (tabby) ground weave of undyed linen, L. 230.5 cm; W. 111 cm. Antinoopolis (El- Sheikh Abada), Egypt, ca. 2nd–3rd century CE. The Metropolitan Museum of Art, Rogers Fund, 1909 (09.181.8).
This shroud has no signs of having been draped or folded and was therefore probably displayed in a tomb as a wall hanging, rather than wrapped around a coffin or a body. The woman represented wears an under-tunic with a straight neck opening painted in gold with a design of triangles, a light wide-sleeved tunic, and a mantle. This portrait is painted in the traditional Greco-Roman style though there are also traditional ancient Egyptian imagery, such as the figure of the striding god Anubis.