Public Events and Videos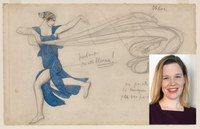 Hymn to Apollo Virtual Tour
Clare Fitzgerald
On July 22nd, ISAW Associate Director for Exhibitions and Gallery Curator Clare Fitzgerald gave a Virtual Tour of our recent exhibition, Hymn to Apollo: The Ancient World and the Ballet Russes. This online presentation was given in collaboration with NYU's Alumni office, and we are pleased to be able to provide our community with the full recording.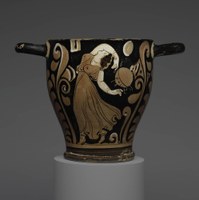 Exhibition Gallery Talk: Object Histories
Kate Justement
Part of a series of lunchtime gallery talks: Wednesdays, March 6–May 29,11:30–11:50am Join us in the galleries for a 20-minute in-depth discussion of a single object from Hymn to Apollo: The Ancient World and the Ballets Russes. In this brief lunchtime talk, participants will engage in a guided conversation exploring the specific history, iconography, and manufacture of one of the objects on view in our current exhibition. Each weekly gallery talk will feature a different object presented by one of the Exhibitions staff, and visitors are welcome to return for a fresh conversation each week. This week, our Object History will be presented by Kate Justement, the Exhibitions Graduate Assistant at ISAW. Registration is not required.
03/12/2019 07:00 PM
La Maison Française, 16 Washington Mews
Hymn to Apollo: Joint Lecture at La Maison Française
Exhibition Lecture
Clare Fitzgerald
What can we know about ancient dance? Why did European avant-garde artists look to the past at the beginning of the twentieth century? This talks presents an overview of the current ISAW exhibition Hymn to Apollo: The Ancient World and the Ballets Russes (on view March 6–June 2, 2019).
RSVP