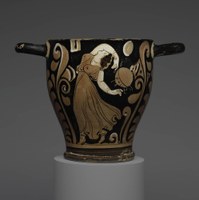 Attributed to the Frignano Painter; Skyphos with a Dancing Maenad Late Classical, 375–350 BCE; Terracotta; Campania, Italy; Harvard Art Museums/Arthur M. Sackler Museum, 1932.56.39; Imaging Department © President and Fellows of Harvard College
Exhibition Gallery Talk: Object Histories
Kate Justement
ISAW Exhibitions Graduate Assistant
Part of a series of lunchtime gallery talks:
Wednesdays, March 6–May 29,11:30–11:50am
Join us in the galleries for a 20-minute in-depth discussion of a single object from Hymn to Apollo: The Ancient World and the Ballets Russes. In this brief lunchtime talk, participants will engage in a guided conversation exploring the specific history, iconography, and manufacture of one of the objects on view in our current exhibition.
Each weekly gallery talk will feature a different object presented by one of the Exhibitions staff, and visitors are welcome to return for a fresh conversation each week.
This week, our Object History will be presented by Kate Justement, the Exhibitions Graduate Assistant at ISAW.
Registration is not required.
ISAW is committed to providing a positive and educational experience for all guests and participants who attend our public programming. We ask that all attendees follow the guidelines listed in our community standards policy.