Event Home
05/10/2023 05:00 PM
Online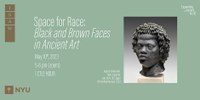 Expanding the Ancient World Workshop:
Space for Race: Black and Brown Faces in Ancient Art
Organized by the Institute for the Study of the Ancient World
This workshop will take place online. Registration is required; click through for the registration link. Zoom information will be provided via confirmation email to registered participants. Expanding the Ancient World is a series of professional development workshops and online resources for teachers. The ancient Mediterranean was a racially diverse place—this is reflected in its art if we look beyond the famous white sculptures associated with antiquity.
RSVP